QuickZoom™ to Reveal Megapixel Details

New DW®® STAR-LIGHT MPA™ Megapixel Analog Camera provide groundbreaking technology to deliver the highest analog resolution available on the market.
STAR-LIGHT MPA™ cameras have 1.3MP CMOS sensors capable of capturing up to 720P resolution. They receive and process images in high resolution at 960H, display 800TV Lines in color and 820TV Lines in monochrome, then allow the user to QuickZoom™ into the field of view to reveal the megapixel resolution with no loss of detail.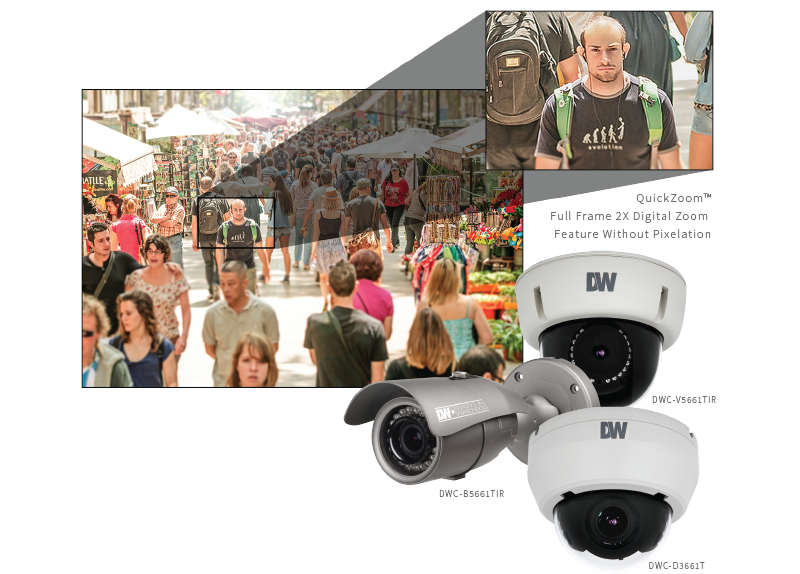 1-3"Sony 1.3MP CMOS
820TVL [B/W], 800TVL[Color]
QuickZoom™ with no Loss in Resolution
STAR-LIGHT™Super Low Light Technology
Wide Dynamic Range (WDR)
Varifocal Auto Iris Lens options
CleanView™Hydrophobic Dome Coating Repels Water, Dust and Grease (Vandal Domes Only)
Smart IR™ with Intelligent Camera Sync. 100~150flt Range
Smart DNR™ 3D Digital Noise Reduction
Highlight Masking Exposure (HME)
De-Fog™
Auto Sensing 24VAC/12VDC
Secondary Video-BNC Output
Introducing

CleanView™ technology repels water and dust to maintain a camera's image quality. A technologically-advanced coating alleviates spotting and smudges that affect the camera's performance.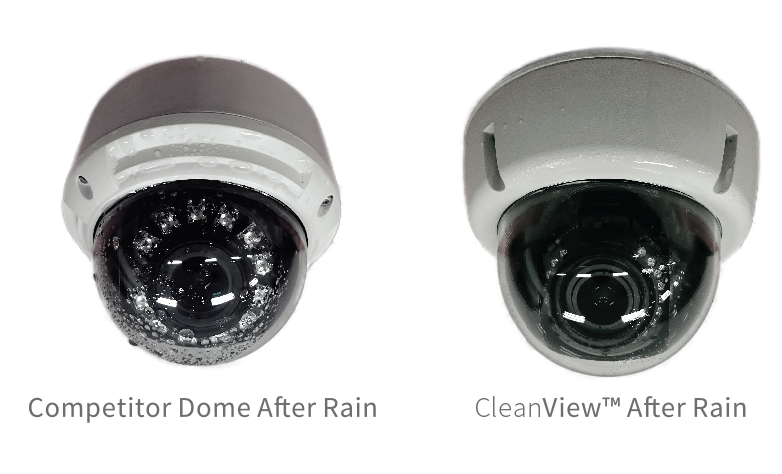 Technology Main Features:
1.3 Active Megapixels = 800 TVL Resolution
DW®'s Star-Light MPA technology delivers the ultimate analog resolution at a reduced total implementation cost by utilizing a 1/3 Megapixel Sony CMOS Sensor. By utilizing a megapixel sensor, the imager captures and processes the Field of View (FoV) in a megapixel resolution, allowing the camera to output up to 800 TV Line images in color and 820 TV Lines in B/W.
Digital Zoom with no Detail Loss & Motion Detection
The cameras support quick digital zoom without any detail loss. Thanks to the analog megapixel technology, the camera is able to preserve the same number of pixels even in digital zoom, offering the clearest details even in zoom mode. The cameras offer four separate motion detection zones that can be individually configured based on the camera's view. When motion is detected, the camera can zoom into the motion area, trace and predict the motion's movement, or trigger an alarm output.
De-Fog™ Image Enhancement
De-Fog™ enables the camera to function and produce clear images even in scenes obscured by fog or strong weather conditions. When weather conditions such as fog or smog interfere with the camera's field of view, the De-Fog image enhancement feature utilizes special enhancement algorithms to visibly improve image quality and reveal details and clarity.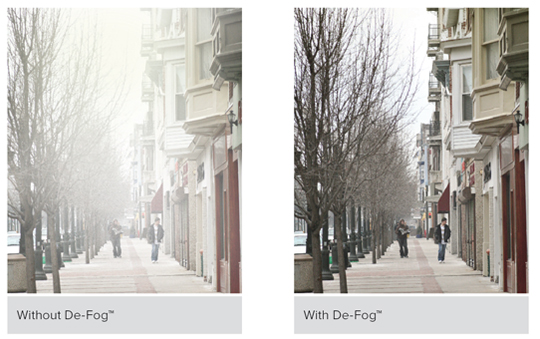 HME (Highlight Masking Exposure)
The HME technology detects and masks any strong spots of light to produce a clear image of any environment. HME is particularly effective for reading license plates of cars in streets or parking lots at night.
Smart DNR™ 3D Digital Noise Reduction
Smart DNR™ 3D Digital Noise Reduction increases the camera's clarity in very low light environments by using a unique algorithm to clean electronic noise signals that can reduce the camera's visibility and trigger false motion detection events. DW®'s special noise reduction technology allows the camera to produce clearer images in both color and B/W in low light without creating lag or ghost effects in the image.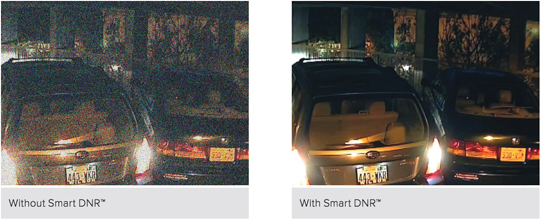 True Day/ Night with IR Cut Filter
To get a better image at night, the camera turns on IR cut filter glass when it detects a specific color data in the environment. When this occurs, the image will turn from Color to Black-and-White and vice-versa.
Programmable Privacy Zones
Masks overly exposed light to produce a true video image in any environment.

Smart IR™
Smart IR™ adjusts the image for IR cameras to eliminate LED light reflection and white spots in the image. By breaking down the camera's field of view into five zones, Smart IR allows for even distribution of the IR light. This prevents excessive illumination on images that are in the front of the scene and offers a clear image in B/W without any loss of detail.