HD over Coax Cameras and DVRs
1080p HD Video over Existing Coax

The VMAX
®
A1™ Digital Video Recorder supports all HD Analog formats and all analog to 960H via Coaxial cables, offering a seamless upgrade to HD resolution. Up the Coax (UTC) remote configuration is available with all compatible cameras. The VMAX
®
A1™ is available in 4-, 8-, 16- and 32-channel configurations with up to 32TB of storage options and is backed by DW
®
's unbeatable 5 year limited warranty.
View All Products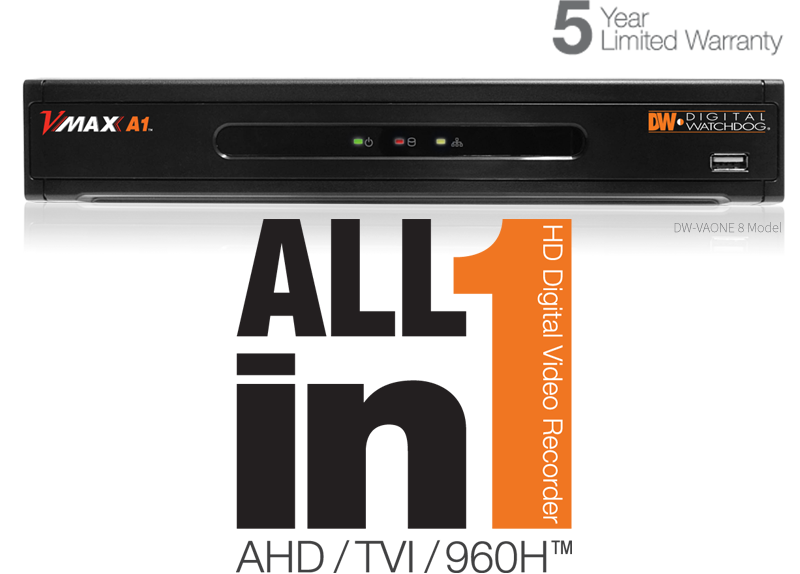 Universal HD over Coax® DVR Records HD-Analog, HD-TVI, HD-CVI and all Analog to 960H Signals
Advanced H.264 embedded DVR
Real-time 30fps rcording up to 2.1MP/1080p
Support up to 3MP HD Analog cameras
Pivot™ central motnitoring management software, up to 128 channels
Event camera group recording
Mobile Application for iPhone®, iPad®, iPod®, Android® smart Phones and tablets and Apple TV®
Mac® compatible remote ACS software
OSD and PTZ control via coax (UTC)
Signal hybrid detects any camera at any output automatically
4K (3840 x 2160) and True HD Video Outputs (on supported models)
HDD calculation and auto recording configuration
Event notifications via E-mail, text and Pivot™ CMS and push notifications to mobile devices
Digital spot monitoring output at D1 resolution
1 audio input, 1 audio output
4 sensor input, 1 relay output
16-channel looping output via DW-VLOOP module, included(DW-VAONE16-L only)
Simple & free DDNS service
Easy web-based client with multi-user access
Help menu on major functions
Auto & manual firmware upgrade available
5 year limited warranty
Universal HD over Coax® and 960H Signal Support
The VMAX® A1™ is the most simple way to upgrade an existing analog solution. With support for all 960H and below resolution analog cameras and Universal HD over Coax® formats (1080p Resolution via coax), the DVR can be integrated into an existing application without the need to update the cameras at the same time. This allows for optimal financial flexibility and ROI, with individual components of an entire solutions updated separately.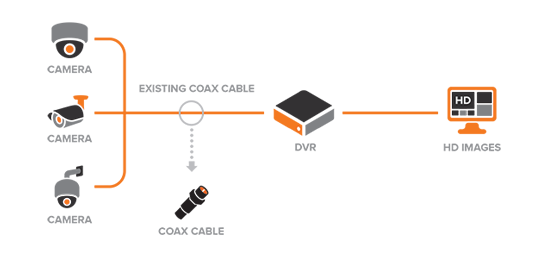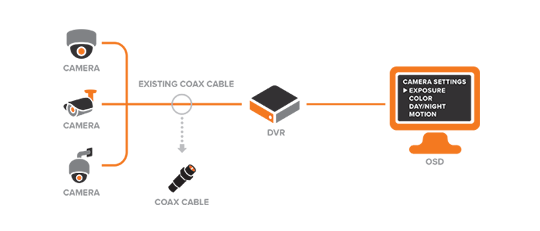 PTZ and OSD Control via Coax (UTC)
UTC (Up The Coax) allows a user to access the camera's OSD (On Screen Display) through a coaxial connection, eliminating the need for an additional RS485 cable to reach the menu or control a PTZ camera.
Pivot™ Central Management Software, Up to 128CH
128 channels from different sites and devices can be viewed simultaneously. Pivot™ provides the most advanced CMS system with a simple drag and drop camera viewing tool.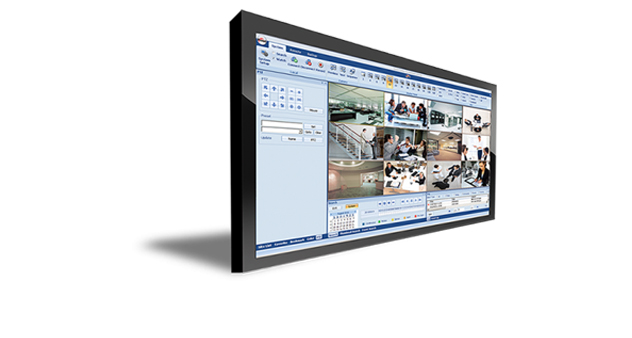 HD over Coax Cameras
1080p HD Video over Existing Coax

Universal HD over Coax® Technology—
High Definition Video Transmission over Coax Cable
Star-Light™ Universal HD over COAX
®
cameras deliver crystal-clear images and support real-time 30fps HD-Analog, HD-TVI, HD-CVI at 2.1MP and CVBS at 960H. Star-Light™ Universal HD over Coax
®
cameras are engineered to work with our VMAX A1™ Universal HD over Coax
®
DVRs using your existing Coax infrastructure for a cost-effective, high resolution surveillance solution.
View All Products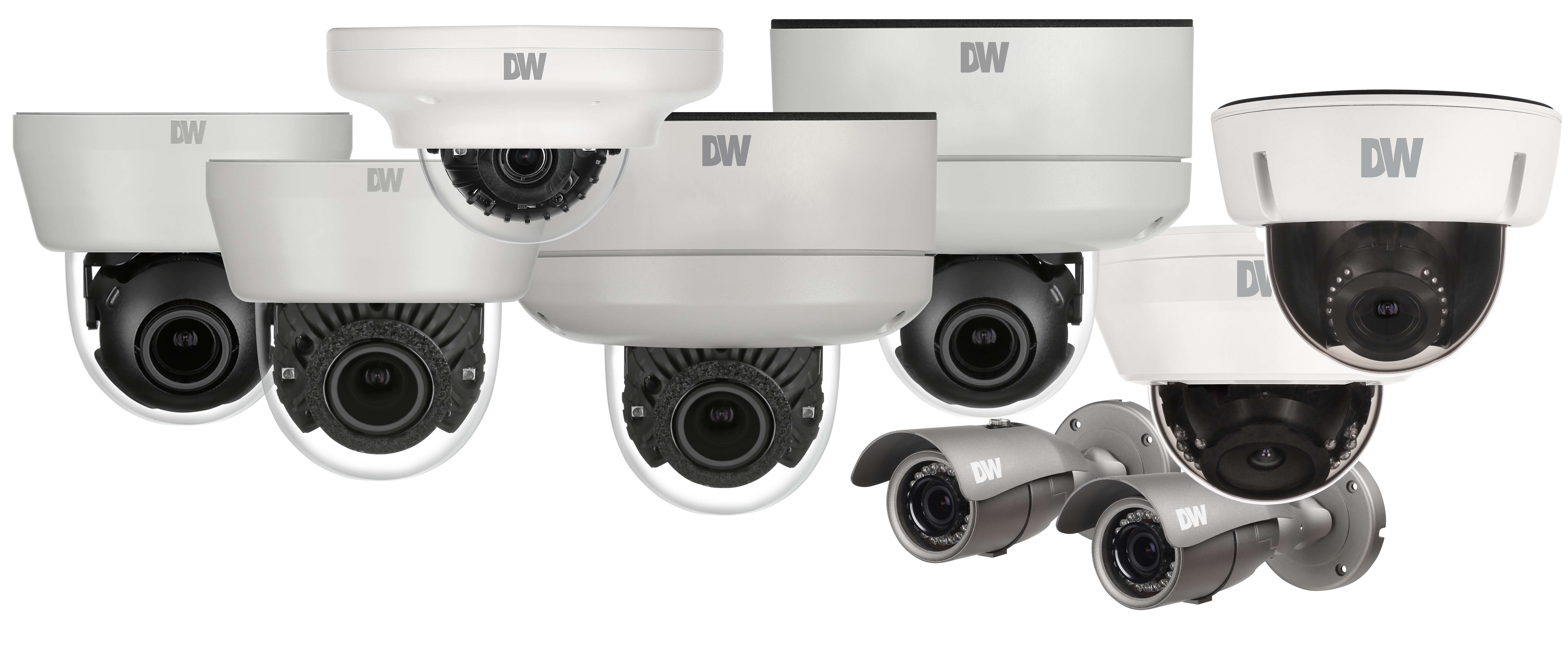 Universal HD over Coax® technology with HD-Analog, HD-TVI, HD-CVI and all analog to 960H signal support
STAR-Light™ super low light technology
Built-in microphone (indoor Snapit™ models)
Fixed, Varifocal and Auto Focus P-Iris Lens Options
True wide dynamic range (WDR)
OSD control via coaxial (UTC)
CleanView™ hydrophobic dome coating repels water, dust and grease(V6 and V4 models)
Smart IR™ with intelligent camera sync. 100~150flt range
Smart DNR™ 3D digital noise reduction
Cold Start -40°F (-40°C) (vandal Snapit™ and B4 bullet models)
De-Fog™ extreme weather image compensation
Highlight masking exposure (HME)
Auto sensing 24VAC/12VDC with line lock (on supporting models)
Easy icon driven OSD menu with built-in joystick
Programmable privacy zones
IP66-68 certified, IK10 impact resistant housing (on supporting models)
5 year warranty
Introducing

CleanView™ technology repels water and dust to maintain a camera's image quality. A technologically-advanced coating alleviates spotting and smudges that affect the camera's performance.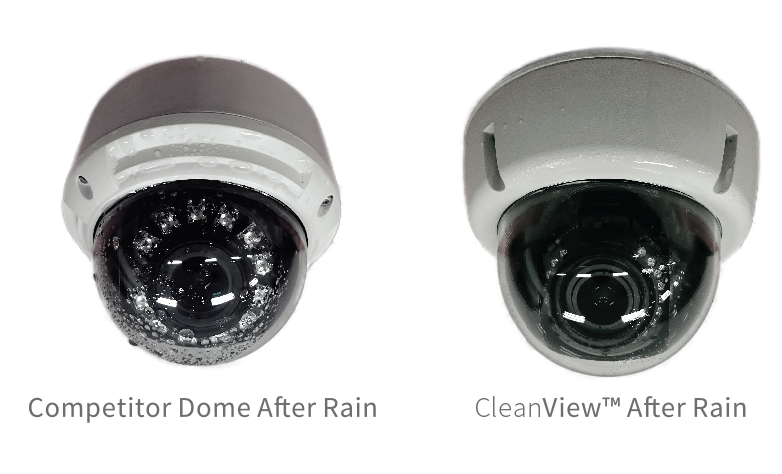 Star-Light™ Super Low Light Technology
Star-Light™ Technology provides crisp clear images in both color and Black and White in extreme low light conditions. Star-Light technology offers a slow shutter feature that increases the length of time the shutter remains open to collect additional light, illuminating typically dark environments. The technology also utilizes Digital Noise Reduction and Highlight Masking Exposure to enhance the image clarity, offering a clear image in any lighting condition.
Digital Wide Dynamic Range (DWDR)
Digital Wide Dynamic Range technology uses the camera technology to capture an entire scene in challenging lighting conditions. The camera digitally adjusts the exposure to the dark areas and the bright areas at the same time, capturing both areas with no loss of detail.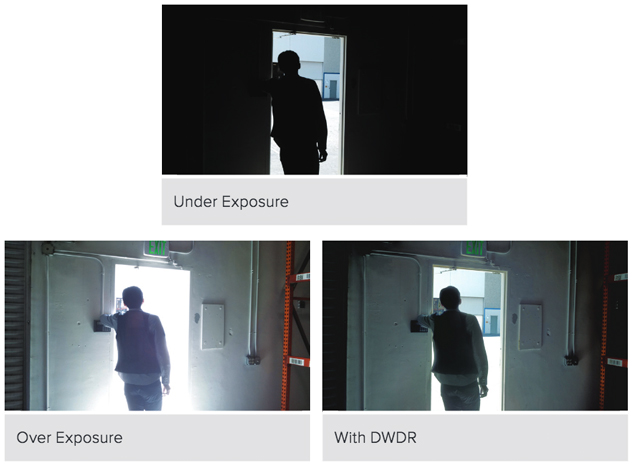 Smart IR™
Smart IR™ adjusts the image for IR cameras to eliminate LED light reflection and white spots in the image. By breaking down the camera's field of view into five zones, Smart IR allows for even distribution of the IR light. This prevents excessive illumination on images that are in the front of the scene and offers a clear image in B/W without any loss of detail.
Smart DNR™ 3D Digital Noise Reduction
Smart DNR™ 3D Digital Noise Reduction increases the camera's clarity in very low light environments by using a unique algorithm to clean electronic noise signals that can reduce the camera's visibility and trigger false motion detection events. DW®'s special noise reduction technology allows the camera to produce clearer images in both color and B/W in low light without creating lag or ghost effects in the image.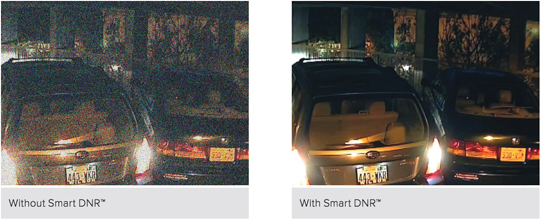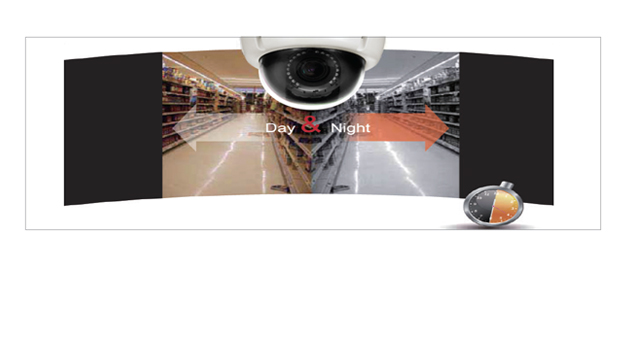 TDN [True Day/Night] with IR Cut Filter
During daylight, the IR cut filter allows visible light to pass through, reflecting the unwanted infrared light. In low light environments, where artificial or external light is not available, the cut filter is removed from in front of the lens, allowing the camera to capture the infrared light that given out from the infrared LEDs, to capture as much light as possible to produce brighter images.