Design Your Surveillance Systems Like This @dw_cctv
We don?۪t mean to be pushy. Well, maybe we do. We just want to help you out. We?۪re givers.
When you bid a video surveillance project, do you think in terms of
GENERAL SURVEILLANCE and CHOKE POINTS?
Do you also consider the need for
LIVE MONITORING vs. RECORDED EVIDENCE?
If you?۪re still only thinking in terms of single-sensor cameras… why? Do you think that multi-sensor cameras are too expensive? Please compare the complete system cost (including labor, cabling, recording licenses, etc.), not just camera cost.
What is the Application?
Let?۪s come to the point about multi-sensor cameras. What do they provide? Wide views.
If you have seen video from multi-sensor 180??-view cameras, you know that you can survey a large area from one installation. You have also seen the Achilles heel — ignorance. Ignorance manifest by trying to use a multi-sensor camera to monitor too broad of an area.
Resolution. Resolution. Resolution.
One manufacturer that introduced a multi-sensor camera at ISC West displayed stunning recorded video of a Paris landscape. Okay. But how, exactly, is that a usable surveillance application? How do you sell that to your customer?
If you have ever played with Adobe® Photoshop®, you quickly learned a very important principle: You cannot add resolution to an image. If you zoom past the native resolution, the image deteriorates. In surveillance, some image deterioration is okay if you can still pick out the details, but too much deterioration renders the image as useless. We are talking about native resolution in fixed view cameras. This blog is not about PTZ cameras and optical zoom vs. digital zoom. That is a topic for another day.
You have to plan for the needed resolution in advance. In video surveillance, we talk about ???pixels per foot (ppf) or ???pixels on target. Simply stated, if you want to read a license plate or recognize a face, you need 45ppf density on the plate or face.
You are only going to get that pixel density if you plan for it. Do you want to monitor a wide area, or do you want to see the details in that wide area? Likely, you want both. And if you understand the principle, a wide view at 15ppf might be okay for the application. 15ppf might be enough resolution to capture activity in the field of view (but not the details).
You can reduce the field of view of your multi-sensor camera to increase pixel density, or you can add additional cameras at the choke points where action happens, such as exits, entrances and concession stands.
Or you can do both so that you are applying realistic expectations for all cameras.
What Do You Want To See?
The 8MP multi-sensor panoramic cameras that have pioneered this segment of our industry provide four 2.1MP sensors. When you plan for the use of these cameras, think about the field of view of the 2.1MP sensor, not the combined 8MP. What do you want to see? That will dictate your field of view. When you cover a wide area, you need to realize that you will probably plan for enough resolution to spot activity, but you are probably not going to have additional resolution to zoom in for details.
As you consider ultra-high-resolution 20MP (4x5MP), 40MP (4x10MP), 33MP (3x4K) and 48MP (4x4K) multi-sensor 180?? video cameras, there is a lot of resolution to accomplish both wide area surveillance and the ability to zoom in for details, but you still need to plan the system based on the capabilities of the individual sensors. Even with so much resolution at your disposal, you can have unrealistic expectations of what you will be able to see, and disappoint your customer.
So again, consider a reasonable field of view for the panoramic camera and add single-sensor cameras for the areas of high activity.
Live Monitoring vs. Recorded Video.
DW
®
currently sells 1080p bullet and vandal dome 180??-view multi-sensor cameras. The cameras use three 1080p sensors. We do not call them 6MP cameras because they are designed to provide affordable 1080p panoramic views. If you back out the image completely, you get a 180?? field of view at 1080p resolution. If you need to capture the activity in a wide field of view, these cameras are attractive solutions. But they record what they see. In live viewing, you can zoom into the extent of any of the individual 1080p sensors without image deterioration: that is the detail that you will see and that is the detail that will be recorded if you leave the camera in that position. If you leave the cameras zoomed out, that is what you record: You will capture the activity in a wide area, but the zoom capabilities of the recorded video will be what you can see in the captured 1080p image. We discussed earlier that there is still forensic value to the wide views, but it will be a matter of how far you can zoom past the native resolution and still identify details.
See for Yourself.
The DW
®
1080p PANO cameras are affordable 180??-view solutions at frame rates of up to 30fps. A great application of these cameras can be seen at our demo site. You will see a 1080p 180?? camera covering our parking lot, but you will also see a single-sensor camera covering the entrance that can capture the plates — the evidence. The forensic application is that someone might pull into our parking lot and do something suspicious that is recognizable in the recorded wide view, and we can capture the plate as he (or she) leaves in the recorded detailed view. Of course, it is simple to review the two feeds in unison in DW Spectrum™.
Modern Surveillance.
We have entered an exciting time in the video surveillance industry when more manufacturers are selling multi-sensor solutions. New features are being added. Higher resolutions are available. Faster frame rates are a reality.
If you have dismissed multi-sensor cameras in the past for any reason, please do yourself and your customers a favor and look at them again.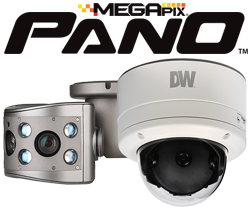 Win a MEGApix® 5X PTZ!
Learn from Ian Johnston on our Monthly Customer Webinar June 5th!
Make your life easier with our Monthly Customer Technical Webinar June 12th!
Schedule a demo!
View our product and educational videos.
See a calendar of all upcoming DW® events.
More DW® news!
Get DW® Logo Apparel and Gear!
We'd Love to Hear from You
Please submit your information and a DW® representative will get in touch with you
  Call sales at (866) 446-3595