DW® Upgrades its Blackjack™ NVR Line with a Linux®-Based Blackjack Cube
DW
®
Upgrades its Blackjack™ NVR Line with a Linux®-Based Blackjack Cube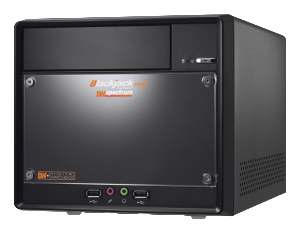 Blackjack™ Cube Linux-Based IP Recording Solution
Tampa, FL January 12, 2015
???
DW®
, the industry leader in digital recorders, surveillance cameras and related management software, announces the release of our new Linux-based Blackjack Cube Network Video Recorder. The new Linux Cube will replace the current Blackjack Blade as an advanced Linux-based small venue IP recording solution. The Linux-based Blackjack Cube offers a significant increase in hardware capability and performance compared to the Blade.
The Blackjack Cube is a powerful NVR Powered by DW Spectrum IPVMS. The NVR records and manages up to 16 2.1mp Cameras at 30fps with 80 Mbps throughput. The hardware includes DVI-D/DVI-I outputs for local monitoring, an Intel® I3 processor, dual network cards and scheduled auto reboot to maintain hardware performance. The Blackjack Cube supports cross-platform connectivity for Windows and MAC client software, and allows you to connect to and monitor your system from almost anywhere. The NVR is OnVIF Profile S conformant, is available with from 2 to 18TB hard drives for true enterprise scalability and comes with an unbeatable 5 Year Limited Warranty.
The new Linux Cube offers upgraded features to the discontinued Blade, with local full DW Spectrum™ client setup and monitoring support.
NVR features include:
Supports All OnVIF Conformant IP Cameras
Storage Options 3-18TB Internal Storage
Record up to 16 2.1MP IP Cameras at a Maximum of 80Mbps
Local Monitoring Output Ports
Full Local Monitoring using the Linux-based DW Spectrum Client
8x USB ports for Storage Expansion, USB Mouse and Keyboard
Hosting DW Spectrum for Setup, Configuration, Monitoring and Recording
One-time Recording License Charge, Fully Transferable Between Cameras and Encoders
No Annual Maintenance Fees
Simple Enterprise Scalability
Auto Device Discovery
Dual Stream Recording
Click here to download the full press release
We'd Love to Hear from You
Please submit your information and a DW® representative will get in touch with you
  Call sales at (866) 446-3595