Product Update — Best-in-Class Value and Performance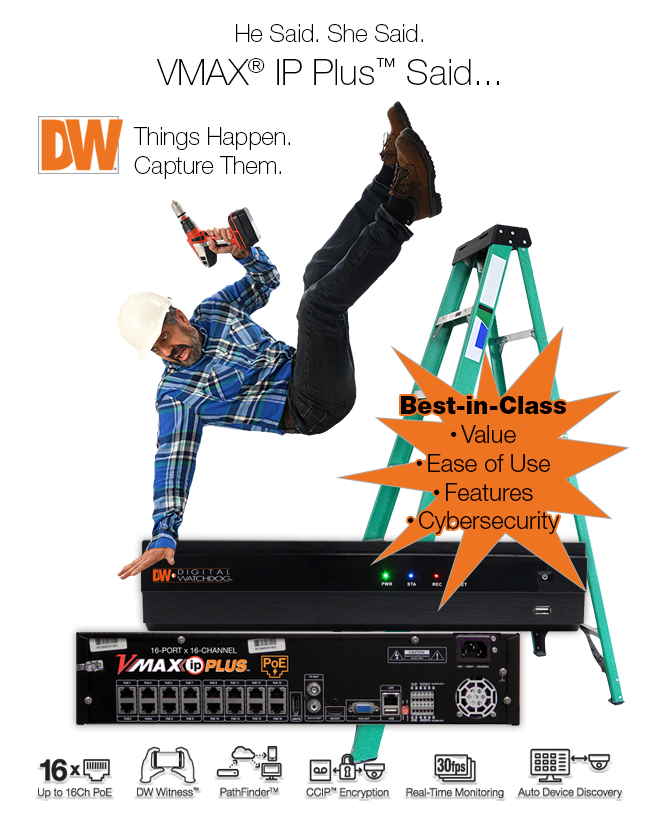 See Things Clearly™.
VMAX® IP Plus™ NVRs are more than video recorders.

They find all your cameras in under three minutes.

A four-port PoE model actually provides nine camera channels.

An eight-port PoE model actually provides twelve camera channels.

A 16-port model provides 16 ports of PoE.

The DW® Witness™ app makes your smartphone or tablet a surveillance camera, recorded on your VMAX® IP Plus™.

CCIP™ Encryption adds an extra layer of cybersecurity between the recorder and MEGApix® cameras.

They monitor themselves and notify you when needed, including the notifications you set-up by pointing and clicking with a mouse.

Schedule a demonstration at your location.

The Right Solution for Your Application™
---


Banking | Commercial | Construction | Corrections | Education | Financial |
Healthcare | Law Enforcement | Logistics | Municipal | Retail

HD Video Surveillance Made Easy™
DW® | 16220 Bloomfield Avenue, Cerritos CA 90703 | 5436 West Crenshaw Street, Tampa FL 33634 | United States
We'd Love to Hear from You
Please submit your information and a DW® representative will get in touch with you
  Call sales at (866) 446-3595