Product Update: Blackjack® NVRs and DW Spectrum® IPVMS are a Winning Hand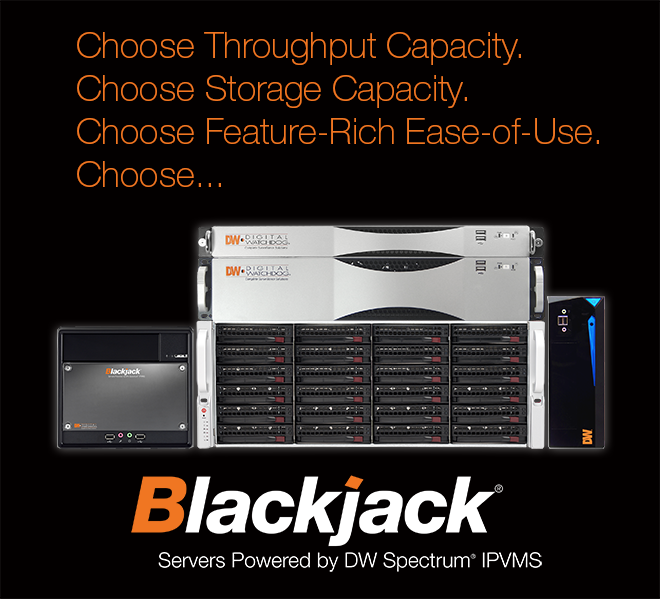 Dominating Duo.
When you combine the performance of DW® Blackjack® Servers with the power and elegance of DW Spectrum® IPVMS, you get the perfect video management solution for your application.

Click here to schedule a demonstration at your location.

The Right Video Surveillance Solution for Your Application™
Blackjack® E-RACK™

Up to 128 2.1MP 1080p Cameras
Up to 198TB Storage
Up to 600Mbps Throughput
Includes 8 DW Spectrum® IPVMS Recording Licenses

---

Blackjack® P-RACK™

Up to 128 2.1MP 1080p Cameras
Up to 36TB Storage
Up to 600Mbps Throughput
Includes 4 DW Spectrum® IPVMS Recording Licenses

---

Blackjack® Bolt™

Up to 16 2.1MP 1080p Cameras
Up to 16TB Storage
Up to 80Mbps Throughput
Includes 4 DW Spectrum® IPVMS Recording Licenses

.


---

Blackjack® Cube™

Up to 96 2.1MP 1080p Cameras
Up to 20TB Storage
Up to 480Mbps Throughput
Includes 4 DW Spectrum® IPVMS Recording Licenses

---

DW Spectrum® IPVMS

Open Architecture/Cross Platform
Interface is Dramatically Easier to Use
Enterprise Features are Standard
Part of a Complete End-to-End IP Solution
Lifetime Upgrades Included/
No Annual Agreements
Scalable from One to Thousands of Devices

---


Banking | Commercial | Construction | Corrections | Education | Financial |
Healthcare | Law Enforcement | Logistics | Municipal | Retail

HD Video Surveillance Made Easy™
DW® | 16220 Bloomfield Avenue, Cerritos CA 90703 | 5436 West Crenshaw Street, Tampa FL 33634 | United States
We'd Love to Hear from You
Please submit your information and a DW® representative will get in touch with you
  Call sales at (866) 446-3595