View, Record and Review Cameras on a Smartphone or Tablet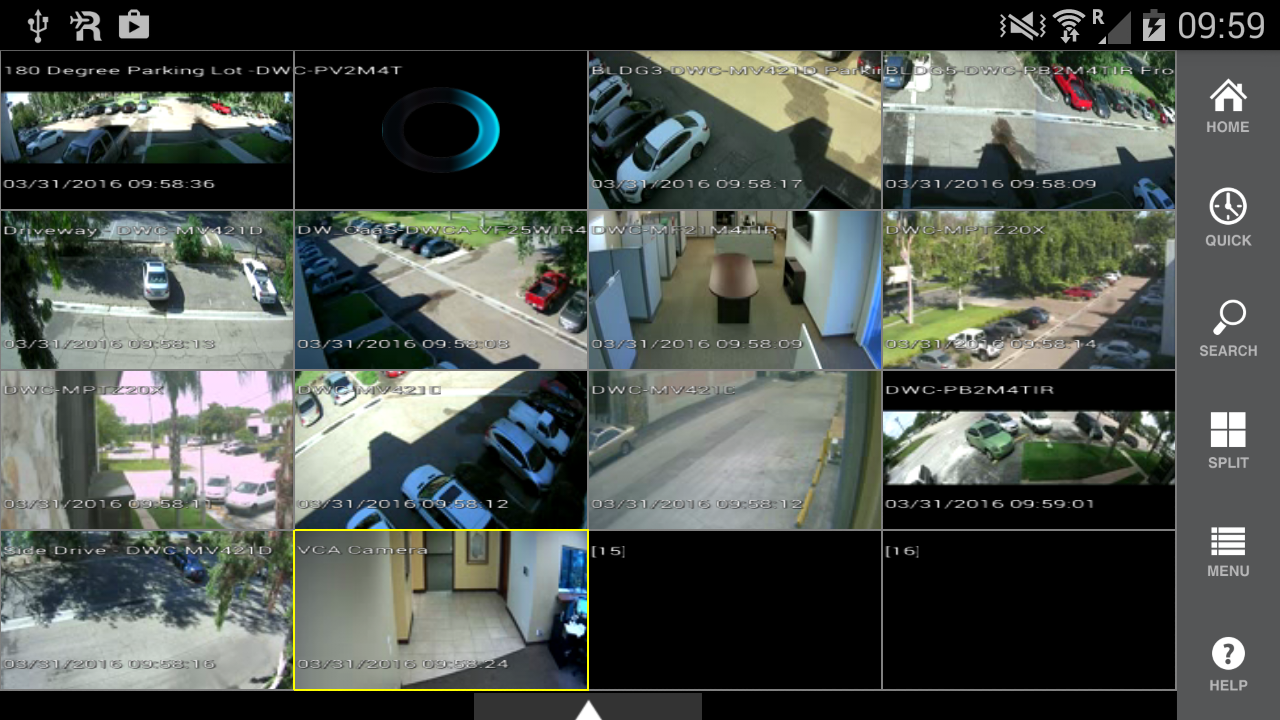 DW Mobile Android App Screenshot
Cerritos, CA (April 5, 2016) – DW® (DW®), the industry leader in digital recorders, surveillance cameras and related management software, announces the release of DW Mobile app for Android™ platform. The new application is available for download on the Google Play Store.
"DW® is driven to provide customers with convenient remote access to their video surveillance systems," said Mark Espenschied, Director of Marketing, DW®. "Our unified app fulfills the vision to deliver a feature-rich experience from a single tool on your smartphone or tablet."
APP FEATURES:
Access Your Entire Security System with the Touch of a Finger.

Remote Monitoring of Multiple Sites.

Supports Unlimited Sites.

Create Unique Layouts with Cameras from Multiple Sites for the Ultimate Mobile Surveillance Experience.

Drag and Drop Camera Layouts and Reordering.

View Up to 16 Cameras per Screen, and Have Up to 25 Cameras Open at One Time (via On-Screen Scrolling).

Capture Image Snapshots.

Send E-mail and Text Notifications with Image Attachment.

Password Protected for Complete Security of Your Systems and Data.
ADDITIONAL FEATURES:
View Multiple Sites on One Screen (Pro Version – Coming Soon).

Search Multiple Cameras Simultaneously (Pro Version – Coming Soon).

Bookmark Setup and Search (Pro Version – Coming Soon).

Export Short Videos in .AVI Format and Share via Email or Social Media (Pro Version – Coming Soon).

Instant YouTube® Video Export Upload (Pro Version – Coming Soon).
MODELS SUPPORTED:
Blackjack Cube™ NVRs

Blackjack E-Rack™ NVRs

Blackjack P-Rack™ NVRs

Any server running DW Spectrum™ IPVMS

VMAX AHD CORE™ DVRs

VMAX A1™ DVRs

VMAX IP Plus™ NVRs
Google Play Store Listing:
https://play.google.com/store/apps/details?id=mobile.android.dw.cc.tv.dwmobileandroid.lite
Click
here
to download the full press release.
ABOUT DW®
DW
®
empowers our customers as the industry-leading single source of value-driven complete solutions for all video surveillance applications (analog / hybrid / IP enterprise), focusing on ease of use and ROI. DW
®
products offer technologically-advanced features including Star-Light™ super low light technology, WDR, Smart DNR™ and Smart IR™. Complete IP megapixel surveillance solutions include single- and multi-sensor MEGApix® cameras and edge recording systems, Blackjack™ NVRs and DW Spectrum™ IPVMS for server, mobile and on-camera control. Complete analog surveillance solutions include single- and multi-sensor STAR-LIGHT AHD™ 1080p and STAR-LIGHT MPA™ 1.3MP 960H cameras, VMAX™ DVRs and mobile management applications.
XXX
For Images or More Information:
Mark Espenschied
Director of Marketing
DW®
marke@digital-watchdog.com
Toll Free: 866.446.3595 x283