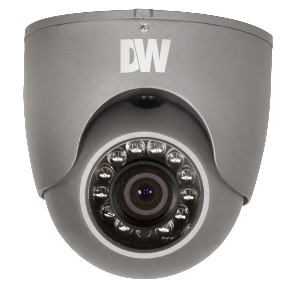 STAR-LIGHT MPATM Ball Camera
Tampa, FL. February 16, 2015
–
DW®
, the industry leader in digital recorders, surveillance cameras and related management software, announces the latest addition to our popular STAR-LIGHT MPA™ Megapixel Analog Camera Series. The STAR-LIGHT MPA Ball Camera is a groundbreaking intelligent, high resolution analog camera, offering crisp and clear images with powerful surveillance and analytical features.
The new ball camera is the perfect solution for any analog system that requires the highest analog resolution on the market in a small camera housing for discrete installations. The new The STAR-LIGHT MPA Cameras offer high resolution with a 1.3MP CMOS sensor, allowing the camera to process images at up to 820TVL and digitally zoom with no loss in detail. This ball camera features a 3.6mm fixed lens and Smart IR™ up to 50 feet. STAR-LIGHT MPA cameras also offer Intelligent Motion Detection, Automatic Digital Zoom and Motion Tracing, True Day & Night operation, 3D Digital Noise Reduction, De-Fog™, remote camera control via RS-485/ UTC and alarm output. The B5661TIR is IP66-rated weather resistant for no fogging or condensation under any conditions. The STAR-LIGHT MPA is an intelligent solution for any application.
The STAR-LIGHT MPA Cameras include the following features:
     1/3″ Sony 1.3M CMOS Sensor
     820 TV Lines [B/W], 800 TV Lines [Color]
     50ft Range IR with Intelligent Camera Sync, Smart IR™ [IR Models]
     STAR-LIGHT™ [Super Low Light Technology]
     True Day & Night with IR Cut Filter
     3D DNR [3D Digital Noise Reduction]
     WDR [Wide Dynamic Range]
     HME™ [Highlight Masking Exposure]
     De-Fog™ [Extreme Weather Image Compensation]
     Digital Quick Zoom & 8x Digital Zoom
     16:9 and 4:3 Viewing Modes
     Privacy Zones (16) & 4 Motion Detection Zones
     Secondary BNC Output
     RS485, UTP, & 1 Alarm Output Built-In
     IP66 Certified Weather Resistant
The STAR-LIGHT MPA Cameras with their clear image offer the best performance when they are bundled with DW
®
's new VMAX960H CORE™ DVR (DW-VC). They form an ideal complete solution providing high resolution images, easy camera management and versatile recording.
For more information on this new camera and availability dates, please contact our sales team at 866-446-3595.
Click here to download the full Press Release