STAR-LIGHT AHD™ 2.1 Megapixel HD Analog Indoor/Outdoor Mini Vandal Dome Camera
Model: DWC-V7753
Groundbreaking STAR-LIGHT AHD™ High Definition Cameras use existing coaxial cables to transmit crystal-clear detailed 1080p images. The cameras offer 2.1MP resolution along with powerful features such as Wide Dynamic Range (DWDR) and True Day/Night with Mechanical IR Cut Filter. The STAR-LIGHT AHD cameras are engineered to work with VMAX AHD DVRs, offering an easy upgrade from analog to high definition surveillance using existing infrastructure for a cost-effective, high resolution surveillance solution.
Important Note:
The camera requires a DVR that supports HD over Coax protocols, like the  
VMAX A1
.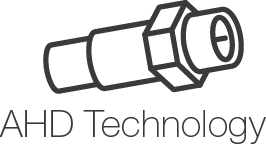 Analog High Definition (AHD)
AHD Technology delivers clear HD video
at 1920 x 1080 Resolution.

Analog High Definition (AHD) HD over Coax Technology
STAR-LIGHT™ Super Low Light Technology
1/2.7" CMOS Sensor
1080p Resolution at 30fps
Digital Wide Dynamic Range (DWDR)
Fixed Lens 3.6mm
Smart DNR™ 3D Digital Noise Reduction
Highlight Masking Exposure (HME)
Secondary Video-BNC Output
Programmable Privacy Zones
Auto Gain Control (AGC)
Backlight Compensation (BLC)
Auto White Balance (AWB)
IP67 Certified (Weather Resistant)
5 Year Warranty
| | | |
| --- | --- | --- |
| IMAGE | | |
| Image Sensor | | 1/2.7" CMOS Sensor |
| Active Pixels | | 1920(H) x 1080(V) |
| Scanning System | | Progressive scan |
| Frequency | | 60Hz/50Hz |
| Signal Technology | | 2.0 Megapixel AHD |
| Synchronization | | Internal |
| Resolution | | 1920x1080 (1080p) |
| Minimum Scene Illuminationy | | F2.0 (30IRE): 1.0Lux [Color] |
| S/N Ratio | | 55dB |
| Video Output | | AHD 1080p30fps/720p60fps/720p30fps |
| LENS | | |
| Focal Length | | 3.6mm |
| Lens Type | | Fixed |
| OPERATIONAL | | |
| Shutter Speed | | 1/30(25)-1/30,000 |
| Backlight | | Off/ On |
| STAR-LIGHT (Sense-up) | | OFF, x2 -x32 |
| Wide Dynamic Range (WDR) | | Off/ On |
| Digital Noise Reduction | | Off, Low, Middle, High |
| White Balance | | Auto / Auto-Ex/ Preset / Manual |
| Day and Night | | Day/ Night/ Auto |
| Mirror/ Flip | | Yes |
| Auto Gain Control | | Max 60dB |
| Motion Detection | | Yes |
| Privacy Zones | | 4 Privacy Zones |
| Sharpness | | 0 ~ 10 |
| Gamma | | 0.45 ~ 0.75 |
| Digital Zoom | | x1.0 ~ x16.0 |
| ENVIRONMENTAL | | |
| Operating Temperature | | -20°C ~ 50°C (-4°F ~ 122°F) |
| Operating Humidity | | than 90% (Non-Condensing) |
| IP Rating | | IP67 (Weather and Dust Resistant) |
| Other Certifications | | FCC, CE, ROHS |
| ELECTRICAL | | |
| Power Requirements | | DC 12V |
| Power Consumption | | 3.06W, 255mA |
| MECHANICAL | | |
| Material | | Aluminum |
| Dimensions | | 105 x 60.7mm (4.13 x 2.38 in) |
| Weight | | 0.95lbs |
Frequently asked questions
Q. How do I get communication from coax?
A.
Camera must be connected to a Vmax A1 dvr or HD-TVI dvr to have coax communication
Camera has 2 video cables make sure to use blue cable for TVI.AHD signal and coax communication
Q. How to turn on WDR?
A. At the VMAX A1 DVR
Right click and select PTZ controller
Press Menu to access the camera's OSD
Go to Exposure, Brightness and select WDR.
Go to Exit Jump
Select Save & Exit
Q. My camera has a spotlight effect at night.
A.
Enter the Setup Menu
Go to Day & Night
Enable SMART IR and adjust the level
SMART IR adjusts the image for IR cameras to eliminate LED light reflection and white spots in the image. By breaking down the camera's field of view into five zones, Smart IR allows for even distribution of the IR light. This prevents excessive illumination on images that are in the front of the scene and offers a clear image in B/W without any loss of detail.Note: This is best adjusted at night
Q. My Camera image is flashing/flickering
A.
View the image to see if the environment has variable lighting
If so, enable WDR or DRC in the camera's menu
If not, make sure power is sufficient and power cycle the camera
Check cable and connectors
Wide Dynamic Range (WDR)
Wide Dynamic Range technology mechanically allows capturing an entire scene in challenging lighting conditions. One shutter is set to a short exposure, capturing the bright areas in the FoV, while the other is set for a long exposure, capturing the dark areas in the FoV. The camera then interlaces the images and combines them, capturing both areas with no loss of detail. This allows for an image capture even when there are very bright and dark areas in the camera's field of view or images are distorted by a strong backlight.
Enter camera's setup menu
Go to Exposure
Go to Backlight and select WDR
Enter WDR submenu to adjust the level
Save & Exit
Dynamic Range Compressor (DRC)
DRC enables dark areas in images to become more visible without overexposing the bright areas to create one perfect image
Enter camera's setup menu
Go to Exposure
Select DRC
Enter DRC submenu to adjust the level
Save & Exit
Q. My camera is blurry at night but clear in the day
A.
Check the lens cover for dirt, debris, scratches, smudges or residue
Tilt camera away from or remove nearby reflective objects
Make sure rubber gasket is present and correctly seated on lens
Clean lens cover with water and dry microfiber cloth
Q. My camera is stuck in Black & Whtie.
A.
Make sure the camera is compatible with the dvr
Make sure the camera is on the right signal
Make sure the camera is getting sufficient light
Make sure the light sensor is not obstructed.
Move camera to a known working port. If problem follows the camera then the camera is the problem
Enter the Camera's setup menu and make sure Day & Night is on Auto
Factory default/Initialize the camera
Bench test the camera with separate wiring and power
Send in for repair if the problem persists.
Q. There are horizontal rolling bars on the monitor.
A.
This is a video ground loop due to more than one ground between camera and monitor/head-end
Ground Loop problems can be resolved by making sure that only one end of any video cable is
connected to a local ground. Make sure the video cable shields do not come into direct contact with
each other to prevent unintentional local grounding.
Tape all connectors in such situations to minimize this risk.
Keep camera runs as short as possible with all video cables cut to fit. Excess cable left along any run can increase the risk of interference.
At the monitor end make sure all the CCTV equipment is connected to same power point to provide a common local ground.
Implement a ground loop isolator