To: DW® CustomersDate: December 7, 2015Re: New DVR Scheduled Reboot Feature
DW® announces a new DVR feature for VMAX DVRs. A scheduled reboot option will allow the DVR to automatically reboot on a weekly base to maintain proper functionality and reduce the risk of malfunction or video loss.
To set up the scheduled reboot option:
Right-click on the screen and select MENU.
Go to the SYSTEM menu and select SYSTEM INFO sub-menu.
Click SCHEDULE REBOOT.
In the pop-up window, check the box next to USE to enable.
Select the day of the week and the hour of the day. For example, every Tuesday at 15:00 (3:00PM).
Click OK to save or CANCEL to exist without saving.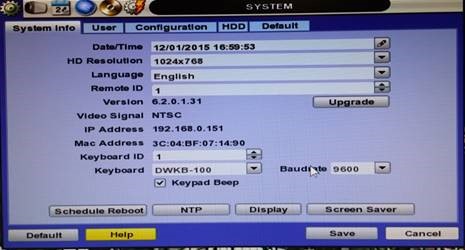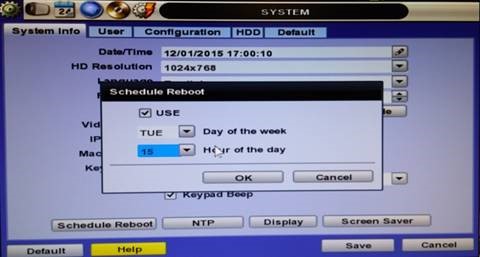 The new feature is available on the following products:
VMAX 960H™

VMAX 960H Flex™

VMAX 960H Core™

VMAX A1™

VMAX IP™
To upgrade your recorder:
Go to www.digital-watchdog.com and go to the DVR's product page.

Under Downloads, download the latest firmware. Once the file is downloaded, unzip it, and copy it to a USB.

Plug the USB with the new firmware into your DVR.

Right-click anywhere on the screen and select MENU à SYSTEM MENU and click UPGRADE next to the version number.

Select 'USB' from the Method drop down options and press the 'Scan' button.

Once the system detects the USB drive, it will display the firmware file under 'Upgrade File Name' and the 'New Ver'.

Click START to begin the upgrade.
You may also use the FTP upgrade option in your recorder. Refer to your recorder's full manual for more information.
For More Information:
DW® Customer Service
Toll Free: 866.446.3595
customerservice@dwcc.tv
XXX