To: DW® Customers
Date: December 28, 2015
Re: VMAX 960H Flex™ v4.2.1.4.61 Firmware Update
DW® announces the release of new firmware version 4.2.1.4.61 for the VMAX 960H Flex™ 8- and 16-channel models. The firmware is available to download on our website and from our FTP server at the links below.
Release Notes for version 4.2.1.4.61:
Added schedule reboot option on DVR (daily or weekly basis).
To set up the scheduled reboot option:
Right-click on the screen and select MENU.

Go to the SYSTEM menu and select the SYSTEM INFO sub-menu.

Click SCHEDULE REBOOT.

In the pop-up window, check the box next to USE to enable.

Select the day of the week and the hour of the day. For example, every Tuesday at 15:00 (3:00PM).

Click OK to save or Cancel to exit without saving.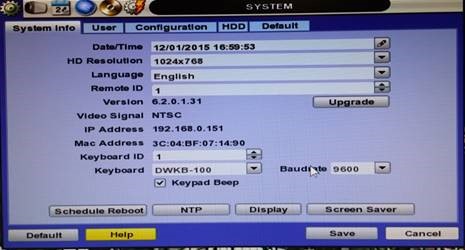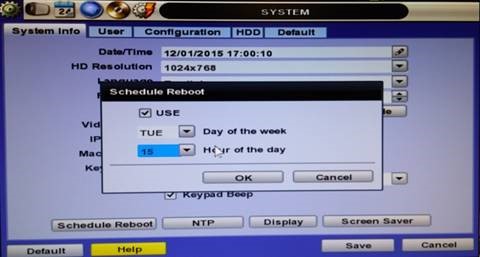 FTP DOWNLOAD:
VMAX 960H Flex 8-channel:
VMAX960H_FLEX_20151111_1710_4_2_1_4_61.pkg
VMAX 960H Flex 16-channel:
VMAX960H_FLEX_20151111_1710_4_2_1_4_61.pkg
Username: dw
Password: dw1234
For More Information:
DW
®
Customer Service
Toll Free: 866.446.3595
customerservice@dwcc.tv
XXX