Snapit Series
The Snapit Series is our new simple to install housing series combined with our reliable camera technologies like Pixim, Infinity, OMNI-Plus, or Star-Light. All Snapit housings include both a built-in UTP and RS-485 and is available as an indoor or vandal dome.

Our Snapit vandal dome cameras include a built-in junction box and is IP68 certified. The camera will work properly even after it has been submersed in a pool of water.
Technology Main Features:
Quick and Easy Installation
The SnapIt cameras offer a simple installation process that allows you to setup and view your camera in minutes!


SnapIt Indoor Installation

SnapIt Vandal Installation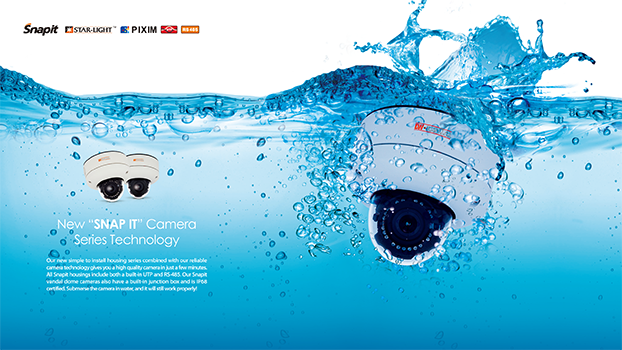 IP68 Certified
The Snapit Vandal Dome cameras have a built-in Junction Box and are IP68 NEMA certified, protecting against dust and immersion.
NEW!! Now Available in Black
The popular SnapIt easy installation housing is now available in charcoal black housing for limited models.