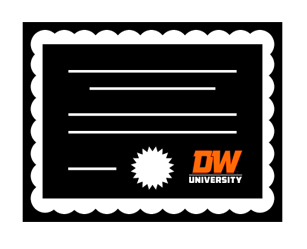 Certification Course
Digital Watchdog® invites you to join an exclusive accredited training opportunity for our DW Spectrum™ IP VMS. Students will fully understand all aspects of installation, set up, functionality and be able to provide maintenance and ongoing support of an IP video surveillance system.
The DW Spectrum IP VMS certification course is an eight (8) hour class. Digital Watchdog® also offers four (4) and two (2) hour courses on network essentials including basic DW Spectrum™ training.
All three certification courses count toward your CEU certification. The DW Spectrum IP VMS Course Qualifies for eight (8) hours of ESA® credit and seven (7) hours of BICSI® credit. The Networking Essentials four and two hour classes qualify for four (4) and two (2) credits.
Click here to read more about these accreditations.
WHY:
Become certified in all aspects of installation, setup, functionality. Plus how to maintain and provide ongoing support.
WHAT:
Full 8 Hour Course Outline:
Introduction, setup and installations
Hand-on experience with DW Spectrum IP VMS features and applications
MEGApix camera introduction & technical overview
Configuration and system design tools
Training Benefits Include:
A comprehensive knowledge of DW Spectrum™ and Digital Watchdog products
Fully accredited by the Electronic Security Association (ESA) for 8 hr. CEU credits
10% Discount to all orders for 7 full days, beginning the day after the training event*
Prioritize Tech Support
Access to DW Dealer Portal
Breakfast, Lunch, beverages and afternoon snacks are provided
*Discount may not be added to existing sales promos or existing project registrations
COST:
Admission Cost is $149.00 USD (Certificate is for 12 months)
MUST:
To Attend, You MUST Bring:
Windows 7 or better PC Laptop.
Any Smart Phone is encouraged, but not required.
Schedule of Events:
Click on a course below to view details
| Date | Registration | Location | Time |
| --- | --- | --- | --- |
| Jan 29, 2019 | REGISTER | Southeast Security Products, 1387 S. Andrews Ave., Pompano Beach, FL 33069 | 08:00 am - 05:00 pm |
| Nov 07, 2018 | CLOSED | Southeast Security Products, 1387 S. Andrews Ave., Pompano Beach, FL 33069 | 08:00 am - 05:00 pm |
| Oct 16, 2018 | CLOSED | Training To You-Phoenix, 2200 N Central Ave.,Suite 400 Phoenix, AZ 85004 | 08:00 am - 05:00 pm |
| Oct 04, 2018 | CLOSED | Holiday Inn Winnipeg Airport West, 2520 Portage Avenue, Winnipeg, Manitoba R3J 3T6 | 08:00 am - 05:00 pm |
| Sep 20, 2018 | CLOSED | Courtyard Seattle Southcenter - 400 Andover Park West, Tukwila, Washington, 98188 | 08:00 am - 05:00 pm |
| Sep 11, 2018 | CLOSED | MicroTek - Boston 25 Burlington Mall Rd., Ste. 204 Burlington, MA 01803 | 08:00 am - 05:00 pm |
| Jul 26, 2018 | CLOSED | DW Corporate Offices, 16220 Bloomfield Ave., Cerritos, CA 90703 | 08:00 am - 05:00 pm |
| Jul 25, 2018 | CLOSED | DW Corporate Offices, 16220 Bloomfield Ave., Cerritos, CA 90703 | 08:00 am - 05:00 pm |
| Jul 12, 2018 | CLOSED | Holiday Inn Express & Suites, 6051 Golden Hills Drive, Golden Valley, MN 55416 | 08:00 am - 05:00 pm |
| Jul 10, 2018 | CLOSED | New Horizons - Troy, 2800 Livernois Rd, Suite 250 Bldg E, Troy, MI 48083 | 08:00 am - 05:00 pm |
| Jun 05, 2018 | CLOSED | Hyatt Place Cincinnati/Blue Ash, 11435 Reed Hartman Highway Blue Ash, OH 45241 | 08:00 am - 05:00 pm |
| Feb 15, 2018 | CLOSED | Four Points by Sheraton Richmond Airport, 4700 S. Laburnum Avenue Richmond, VA 23231 | 08:00 am - 05:00 pm |
| Feb 13, 2018 | CLOSED | Hilton Garden Inn Owings Mills, 4770 Owings Mills Blvd., Owings Mills, MD 21117 | 08:00 am - 05:00 pm |
| Jan 30, 2018 | CLOSED | Courtyard by Marriott San Marcos, 625 Commercial Loop San Marcos, TX 78666 | 08:00 am - 05:00 pm |
| Dec 06, 2017 | CLOSED | Southeast Security Products, 1387 S. Andrews Ave Pompano Beach, FL 33069 | 08:00 am - 05:00 pm |
| Oct 26, 2017 | CLOSED | Courtyard Bloomington by Mall of America 7800 Bloomington Avenue South Bloomington, Minnesota 55425 USA | 08:00 am - 05:00 pm |
| Oct 24, 2017 | CLOSED | Courtyard Chicago Schaumburg/Woodfield Mall 1311 American Lane Schaumburg, Illinois 60173 | 08:00 am - 05:00 pm |
| Sep 20, 2017 | CLOSED | Courtyard by Marriott Detroit Farmington, 33043 Hamilton Court Farmington Hills, MI 48334 | 08:00 am - 05:00 pm |
| Sep 13, 2017 | CLOSED | Hyatt Place Nashville Airport 721 Royal Parkway Nashville, TN 37214 | 08:00 am - 05:00 pm |
| Sep 07, 2017 | CLOSED | Adams Pointe Conference Center, 1400 NE Coronado Drive, Blue Springs, MO 64014 | 08:00 am - 05:00 pm |
| Aug 31, 2017 | CLOSED | Courtyard Los Angeles Sherman Oaks, 15433 Ventura Blvd. Sherman Oaks, CA 91403 | 08:00 am - 05:00 pm |
| Aug 16, 2017 | CLOSED | Courtyard by Marriott San Marcos, 625 Commercial Loop San Marcos, TX 78666 | 08:00 am - 05:00 pm |
| Aug 03, 2017 | CLOSED | Courtyard by Marriott Greenville Haywood Mall, 70 Orchard Park Dr. Greenville, SC 29615 | 08:00 am - 05:00 pm |
| Jul 19, 2017 | CLOSED | Courtyard by Marriott Oakland Airport 350 Hegenberger Road Oakland, CA 94621 | 08:00 am - 05:00 pm |
| Jul 19, 2017 | CLOSED | Holiday Inn Washington-College Pk (I-95) 10000 Baltimore Avenue College Park, MD 20740 | 08:00 am - 05:00 pm |
| Jun 08, 2017 | CLOSED | Courtyard Boston Norwood/Canton, 300 River Ridge Dr., Norwood, MA 02062 | 08:00 am - 05:00 pm |
| May 25, 2017 | CLOSED | Hyatt Place Tempe/Phoenix Airport, 1413 W Rio Salado Parkway Tempe, AZ 85281 | 08:00 am - 05:00 pm |
| May 10, 2017 | CLOSED | Marriott Courtyard Montreal Airport, 7000 Place Robert-Joncas Saint-Laurent, Montreal, QC H4M 2Z5 | 08:00 am - 05:00 pm |
| May 03, 2017 | CLOSED | Hyatt Place, 410-01 Broadway (Route 208 North), Fair Lawn, New Jersey, 07410 | 08:00 am - 05:00 pm |
| Apr 27, 2017 | CLOSED | La Cima Club The Towers at Williams Square 5215 N O?۪Connor Blvd, 26th Floor Irving, TX 75039 | 08:00 am - 05:00 pm |
| Apr 25, 2017 | CLOSED | Fairfield Inn & Suites by Marriott Houston Northwest/Willowbrook, 10825 North Gessner Road Houston, TX 77064 | 08:00 am - 05:00 pm |
| Mar 23, 2017 | CLOSED | Hyatt Place Atlanta/Cobb Galleria 2876 Spring Hill Pkwy Smyrna, GA 30080 | 08:00 am - 05:00 pm |
| Mar 08, 2017 | CLOSED | Minneapolis, MN | 08:00 am - 05:00 pm |
| Mar 02, 2017 | CLOSED | Indianapolis, IN | 08:00 am - 05:00 pm |
| Nov 09, 2016 | CLOSED | Santa Ana, CA | 08:00 am - 05:00 pm |
| Nov 02, 2016 | CLOSED | Seattle, WA | 08:00 am - 05:00 pm |
| Sep 29, 2016 | SOLD OUT | Elk Grove Village, IL | 08:00 am - 05:00 pm |
| Sep 14, 2016 | SOLD OUT | Orlando, FL | 08:00 am - 05:00 pm |
| Aug 04, 2016 | SOLD OUT | Minneapolis, MN | 08:00 am - 05:00 pm |
| Jun 09, 2016 | SOLD OUT | Pompano Beach, FL | 09:00 am - 04:00 pm |
| May 12, 2016 | SOLD OUT | Pompano Beach, FL | 09:00 am - 04:00 pm |
| Mar 24, 2016 | SOLD OUT | Toronto, Canada | 08:00 am - 05:00 pm |