Fast 37X PTZ Analog Cameras

The START-LIGHT™ 37x PTZ is a high performance, super speed camera with a 37x optical zoom. Our STAR-LIGHT™ technology helps reveal details in typically dark environments. The camera moves at a 0-360° endless pan. To simplify installation, the camera's wiring is included separately with your choice of mounting accessory.
View All Products
Product Selector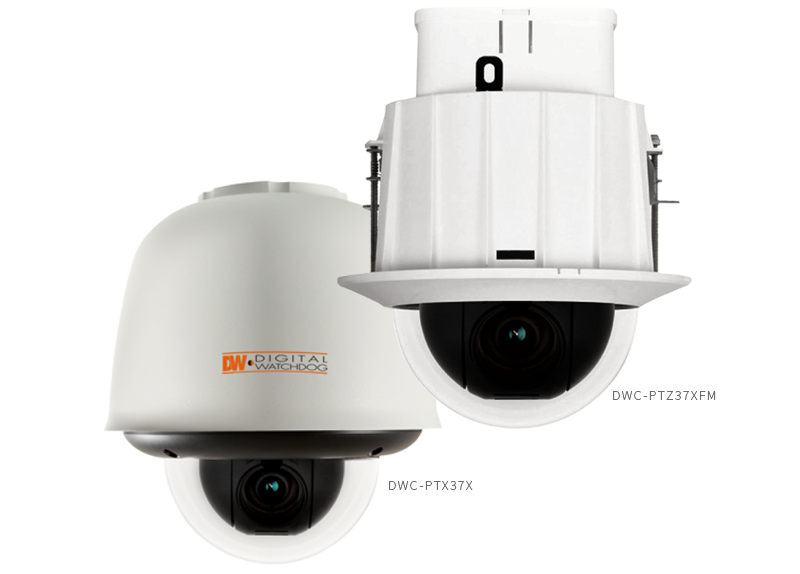 1/4" Interline Transfer CCD, 680TVL[B/W], 560TVL[Color]
37x Optacal Zoom, 16x Digital Zoom with Auto Focus
Wide Dynamic Range (WDR)
STAR-LIGHT™ Super Low Light Technology
3.5~129.5mm Auto Focus Lens
Smart DNR™ 3D Digital Noise Reduction
Highlight Masking Exposure (HLC)
Pan 0-360° Endless
360° Per Second Pan Speed
Vector Drive Technology (Pan/Tilt Motion in Shortest Patch)
Auto Day/Night with IR Cut Filter
128 Presets, 4 Pattern, 4 Relay Output
Digital Image Stabilizer (DIS)
Auto Gain Control (AGC)
Technology Main Features:
HME (Highlight Masking Exposure)
The HME technology detects and masks any strong spots of light to produce a clear image of any environment. HME is particularly effective for reading license plates of cars in streets or parking lots at night.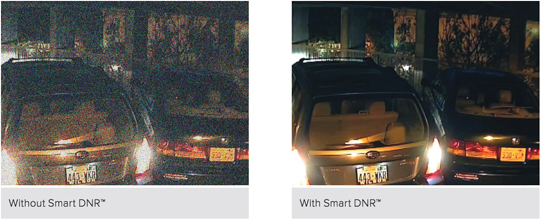 Smart DNR™ 3D Digital Noise Reduction
Smart DNR™ 3D Digital Noise Reduction increases the camera's clarity in very low light environments by using a unique algorithm to clean electronic noise signals that can reduce the camera's visibility and trigger false motion detection events. DW®'s special noise reduction technology allows the camera to produce clearer images in both color and B/W in low light without creating lag or ghost effects in the image.
DRC (Dynamic Range Compressor)
With the advanced light compensation technology DRC, dark spots in images become more visible without overexposing the bright spots to create one perfect image.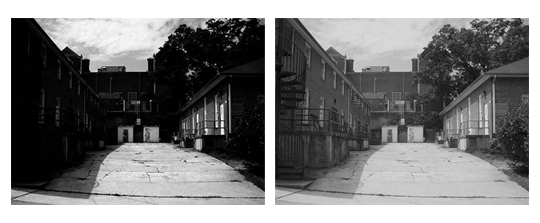 DSS (Digital Slow Shutter)
Offers a slow shutter feature that increases the length of time the shutter remains open to collect additional light, illuminating typically dark environments.
True Day/ Night with IR Cut Filter (Supported Models Only)
To get a better image at night, the camera turns on IR cut filter glass when it detects a specific color data in the environment. When this occurs, the image will turn from Color to Black-and-White and vice-versa.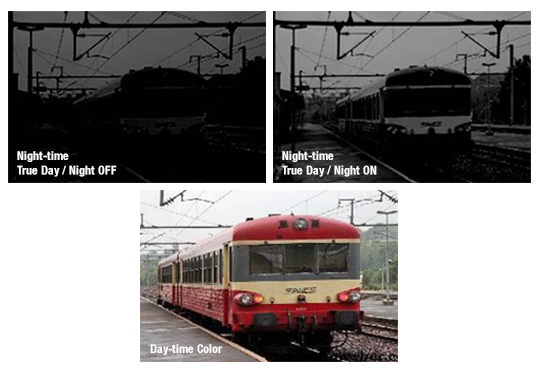 Programmable Privacy Zones
Masks overly exposed light to produce a true video image in any environment.
Smart IR™
Smart IR™ adjusts the image for IR cameras to eliminate LED light reflection and white spots in the image. By breaking down the camera's field of view into five zones, Smart IR allows for even distribution of the IR light. This prevents excessive illumination on images that are in the front of the scene and offers a clear image in B/W without any loss of detail.