Sell the Best of Both Worlds @dw_cctv
The term ???CCTV can be confusing. Today, it is both a specific definition and a generic.
It is like, ???Do you want a Coke? ???Yeah, do you have root beer or orange?
As such, today CCTV describes both analog and IP video surveillance.
There are some in the video surveillance industry that want you to choose one or the other, analog or IP. The IP people shudder at being categorized as CCTV. However, we live in a world where the integrator has the ability to provide high resolution video using analog AND IP. After all, only two things matter: the end user getting a good system and the integrator getting paid.
And everyone needs the solution to be easy. Whether it is a transition to IP or an analog HD alternative, it should ???just work.
The IP proponents can use the rationale that new construction or renewal/remodels will have IP infrastructure. That is true, but what is the ratio of new to existing buildings in the world? If an existing building has already had a surveillance system installed (currently or at some point), odds are it was traditional CCTV over coax. Yes, there is also the possibility that IP infrastructure has been added to the building to support the computer/phone system. But unless it is an extensive remodel, there is no reason for the integrator or end user to say, ???While we?۪re running that Cat 6, let?۪s just rip out all that coax. Why? It isn?۪t hurting anybody. Nobody can see it. Maybe you?۪ll need it.
DW
®
has no ax to grind either way: we sell both analog and IP equipment. So it could be said that we have two axes to grind. Or you could say that we offer The Best of Both Worlds™.
But the real ax we grind is to encourage the integrator to buy complete systems from us. Our components, for the most part, work and play well with others, but we think that the ???one throat to choke single source is a benefit to both the integrator and the end user before, during and after the installation.
Because of our diverse product selection, we are more than happy to discuss use of Cat 6 or coax for an HD video surveillance system.
The IP proponents will ride their hobby horses about high resolution. DW
®
can certainly talk that talk and walk that walk. But just as ???Rome was not built in a day, neither is the 5MP camera going to become the standard tomorrow, nor will the new DW
®
48MP multi-sensor panoramic camera cause everyone to throw out their existing system designs the day after that. Baby steps. ???Small victories. The adoption of 1080p as a standard in both analog and IP systems is a H-U-G-E improvement over 960H, VGA or even 720p. ???Free the masses! Megapixel for everyone!
When a customer talks to an integrator today, the customer is expecting 1080p image quality. They may or may not understand the megapixel value proposition and that the resolution of those cameras can also result in fewer cameras being needed for the system. That is where the integrator has the opportunity to educate about resolution and why a 5MP or 4K camera might make sense in some applications, and the further value proposition of a multi-sensor panoramic camera.
HOWEVER, if the application does not call for a complex video surveillance system, great results can be delivered by the way that 1080p cameras are positioned and managed.
At DW
®
, it is easy to get excited about our enterprise-level IP solutions: DW Spectrum™ VMS, Blackjack™ NVRs and MEGApix® cameras. We are talking about some pretty great and easy to use world-class products.
But what about the integrator whose bread and butter is the single store or small office? The enterprise system will work, but may not be the most efficient solution either to install or manage.
Our business has been built upon dependable VMAX™ DVRs with an intuitive user interface and easy to use management software, Pivot™. Our business model has been to apply higher and higher resolution cameras to that familiar user experience. Today, with the proliferation of AHD (analog high definition), our installer customers can now provide the megapixel value proposition to their customers over existing coax infrastructure using VMAX AHD™ DVRs and STAR-LIGHT AHD™ 1080p cameras.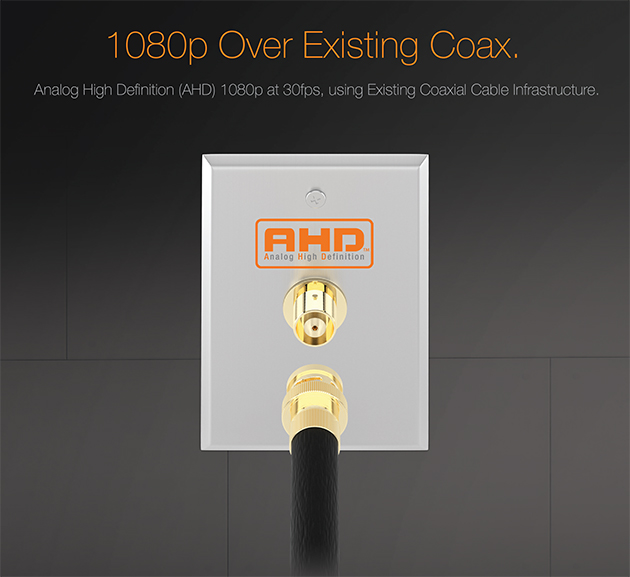 And if the end user customer has enjoyed the easy nature of their analog system, but feels that IP is an update they need to make, we have taken that same easy user experience and software and applied it to an IP plug and play NVR solution supporting up to 16 IP 1080p cameras including the added benefit of PoE, VMAX IP™ NVRs. Simply add MEGApix® 720p and 1080p cameras.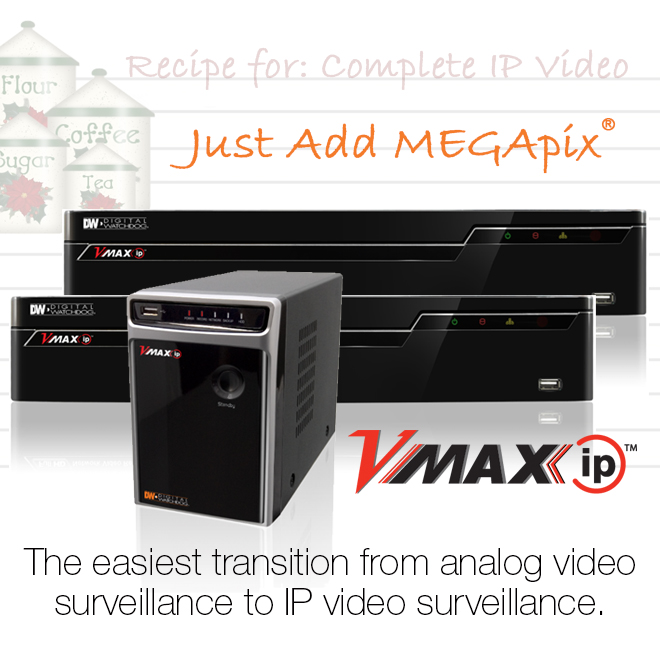 If you are an integrator, the infrastructure of your customer?۪s current facility is neither a pro nor a con for you today. Whether it is coax or Cat 6, it is an opportunity for you to educate the customer and sell the megapixel value proposition of improved image quality with fewer cameras in the system. Analog or IP, you can easily deliver that high resolution solution.
Win a MEGApix® 5X PTZ!
Make your life easier with our Monthly Customer Technical Webinar June 12th!
Learn from Ian Johnston on our Monthly Customer Webinar July 10th!
Schedule a demo!
View our product and educational videos.
See a calendar of all upcoming DW® events.
More DW® news!
Get DW® Logo Apparel and Gear!
We'd Love to Hear from You
Please submit your information and a DW® representative will get in touch with you
  Call sales at (866) 446-3595