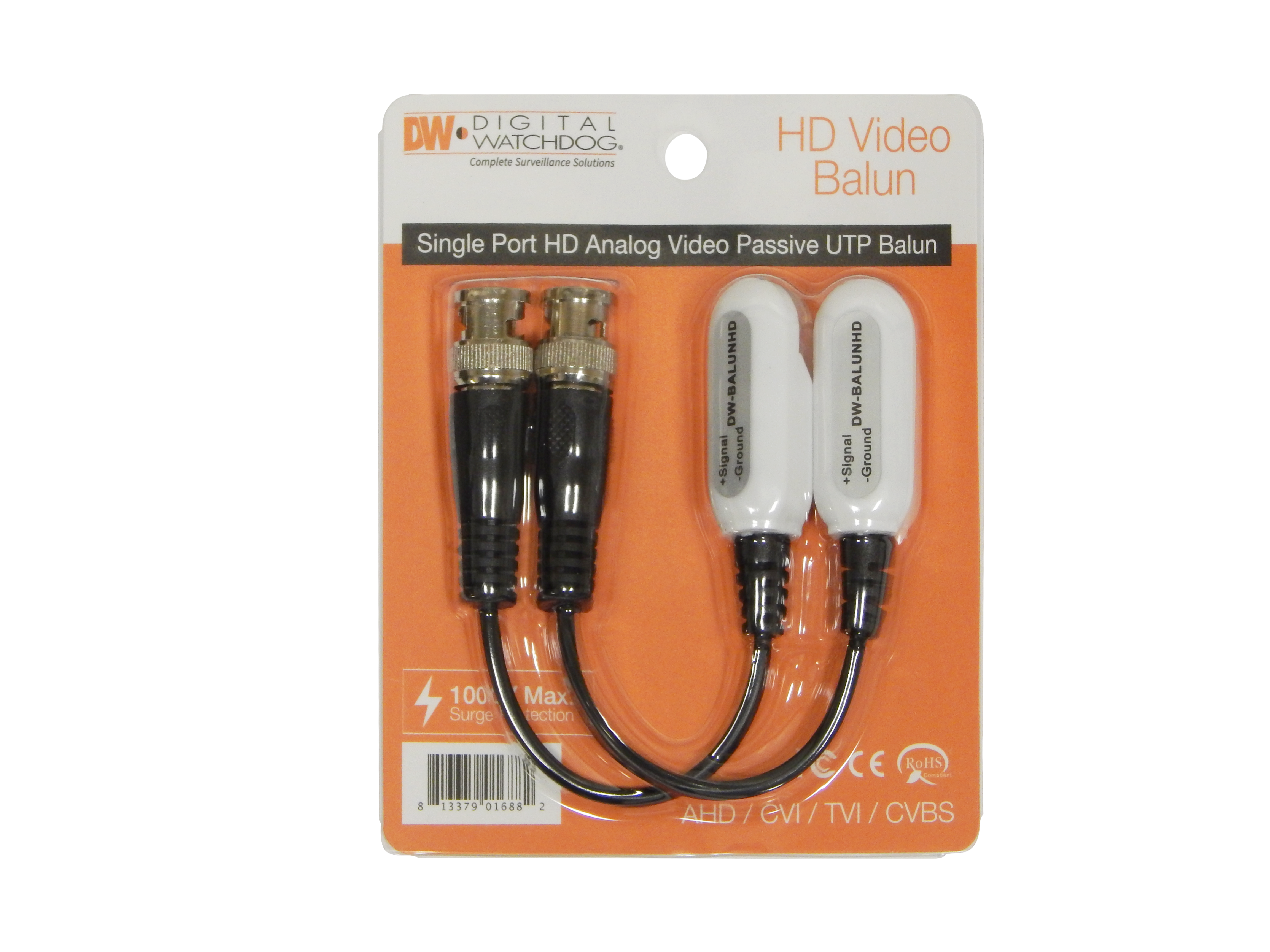 HD Video Balun Converter
Cerritos, CA February 2, 2016 –DW® (DW®), the industry leader in digital recorders, surveillance cameras and related management software, announces the addition of a new video balun that converts a high definition analog video signal from coaxial cabling to UTP network cables. The DW-BALUNHDN adds installation convenience for two of the most versatile network video recorders in the industry, the VMAX AHD Core and VMAX A1 all-in-one recorder.
Sold in a two pack, the DW-BALUNHD is a passive, non-amplifier video balun that allows for real-time analog and high definition video transmission via UTP up to 1000-feet. The DW-BALUNHD is compatible with all AHD, TVI, CVI and CVBS analog cameras. The converter's superior interference and low emissions allows connecting the cameras to a recorder using an existing UTP infrastructure. The DW-BALUNHDN has a built-in surge suppressor to protect against damaging voltage spikes and is crosstalk and noise immunity to ensure quality video signals.
Additional features include:
Real-time transmission over UTP cat5e/6

Compatible with all AHD, TVI and CVBS analog cameras

AHD 720P : up to 1000ft (305m)

AHD 1080P : up to 600ft (183m)

TVI 720P : up to 1000ft (305m)

TVI 1080P : up to 600ft (183m)

CVI 720P : up to 800ft (244m)

CVI 1080P : up to 400ft (122m)

Push-pin Terminal Connection for UTP Cable

60dB anti-interference and noise reduction

No External Power Required

Click HERE to download the full press release.

ABOUT DW®
DW®® (DW®) empowers our customers as the industry-leading single source of value-driven complete solutions for all video surveillance applications (analog / hybrid / IP enterprise), focusing on ease of use and ROI. DW® products offer technologically-advanced features including Star-Light™ super low light technology, WDR, Smart DNR™ and Smart IR™. Complete IP megapixel surveillance solutions include single- and multi-sensor MEGApix® cameras and edge recording systems, Blackjack™ NVRs and DW Spectrum™ IPVMS for server, mobile and on-camera control. Complete analog surveillance solutions include single- and multi-sensor STAR-LIGHT AHD™ 1080p and STAR-LIGHT MPA™ 1.3MP 960H cameras, VMAX™ all-in-one multi-platform DVRs and mobile management applications.
XXX
For Images or More Information:
Mark Espenschied
Director of Marketing
DW®
marke@digital-watchdog.com
Toll Free: 866.446.3595 x283