ISSUE:
Some STAR-LIGHT AHD™ cameras may show no video even when all possible troubleshooting is done. If a customer tries to connect their STAR-LIGHT AHD™ camera to a UTP cable directly rather than a BNC cable, they will not be able to see video from the camera.
SOLUTION:
Most of the STAR-LGIHT AHD™ cameras have an UTP/COAX switch on the controller board. The switch is located between the secondary BNC output and the OSD joystick controller. The switch is set to COAX by default.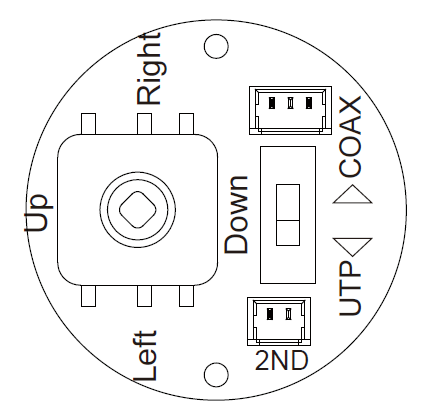 If the camera is showing no video, and the customer is trying to connect the camera directly via UTP, check the UTP/COAX switch and confirm the switch's position matches the signal connection type.
THE ISSUE MAY APPLY TO THE FOLLOWING CAMERAS:
DWC-D3763WTIR

DWC-V6763WTIR

DWC-B6763WTIR

DWC-B6763WTIR650

DWC-D4783WD / DWC-D4783WTIR

DWC-V4783WD / DWC-V4783WTIR
For More Information:
DW® Customer Service
Toll Free: 866.446.3595
customerservice@dwcc.tv
XXX