DW™ Rockin?۪ at TEC by PSA® @dw_cctv
We are excited about our relationship with PSA Security Network®. Their annual TEC event (Training, Exhibits, Conference) is happening this week and DW
®
is pleased to be part of it. Our Director of IP Video Solutions Patrick Kelly presented a course on IP networking on Monday, and we are taking part in the exhibits today (see photo following). You can learn more about PSA® here.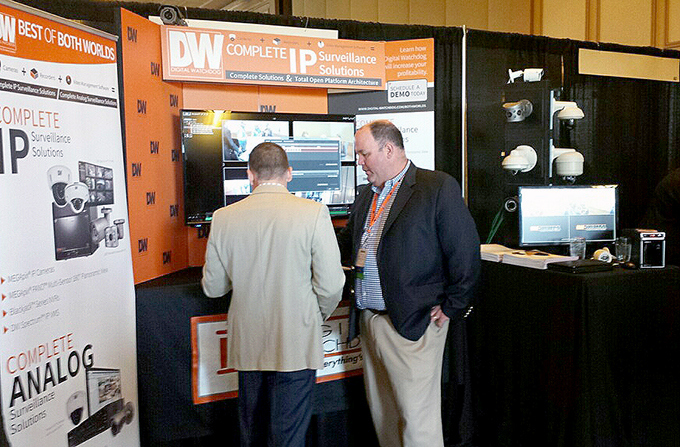 DW
®
Director of IP Video Solutions Patrick Kelly (right) and our display at the TEC by PSA® Exhibits.
DON?۪T FORGET!!!
MONTHLY TECHNICAL WEBINAR —
BEST PRACTICES FOR EASY INSTALLATION AND MANAGEMENT
At 8:30 a.m. PST on Friday, May 8, 2015, DW
®
Director of Education Programs Paul Krofssik will provide real world information to make installers?۪ work easier in the field. He will also conduct a live Q&A. Next week, Paul will cover camera and encoder setup, our IP Finder (universal for all MEGApix® Cameras), DW
®
CP04 Encoder Setup and New Pricing, and show you what is the latest and greatest in DW Spectrum 2.3 IP VMS. The webinars run a maximum of one hour.
Win a MEGApix® 5X PTZ!
Learn from Ian Johnston on our Monthly Customer Webinar June 5th!
Make your life easier with our Monthly Customer Technical Webinar May 8th!
Schedule a demo!
View our product and educational videos.
See a calendar of all upcoming DW® events.
More DW® news!
Get DW® Logo Apparel and Gear!
We'd Love to Hear from You
Please submit your information and a DW® representative will get in touch with you
  Call sales at (866) 446-3595