DW® Announces Analog High Definition Cameras and NVRs
1080p Video and Recording Over Existing Coax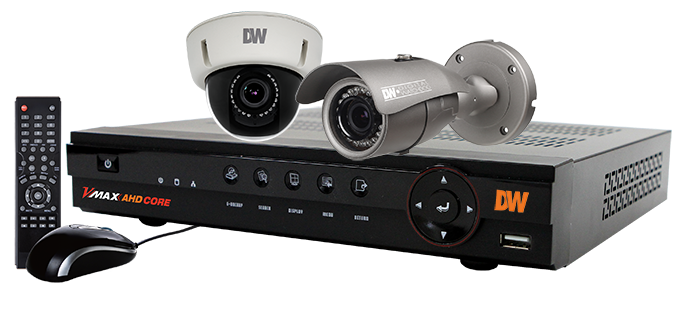 VMAX AHD CORE™ DVR and STAR-LIGHT AHD™ Cameras
Las Vegas, NV (April 15, 2015) ???
DW®
(DW
®
), the industry leader in digital recorders, surveillance cameras and related management software, announces our new AHD (Analog High Definition) products. The VMAX AHD CORE™ DVR and STAR-LIGHT AHD™ Cameras offering 1080P images and recording are being demonstrated at the ISC West Exhibition, April 15-17, 2015, in Las Vegas, Nevada, Booth 25089. DW
®
AHD user-friendly high definition solutions have been engineered to utilize an existing analog structure, increasing ROI while reducing installation time and complexity to provide an HD surveillance solution in minutes.
???Last year, DW
®
was pleased to bring megapixel resolution to the analog market with our STAR-LIGHT MPA™ cameras, said Wade Thomas, President, DW
®
. ???With these AHD 1080p products, the megapixel value proposition is easily available using existing coax.
As the surveillance market transitions to network IP solutions, DW
®
understands that small businesses may opt out of expensive upgrades and chose to keep their analog solution.
Groundbreaking STAR-LIGHT AHD High Definition Cameras use existing coaxial cables to transmit crystal-clear detailed 1080p images. AHD technology leverages the robustness of analog signal infrastructure for a seamless upgrade to the details and clarity of 1080p high definition resolution. The cameras offer 2.1MP resolution and powerful features such as P-Iris Lens, Double Shutter Wide Dynamic Range (WDR) and True Day/Night with Mechanical IR Cut Filter.
The STAR-LIGHT AHD Cameras are engineered to work with VMAX AHD DVRs, offering an easy upgrade from analog to high definition surveillance using existing infrastructure for a cost-effective, high resolution surveillance solution. The VMAX AHD CORE™ is a digital video recorder that offers real-time HD monitoring and recording at 1080p (1920X1080) and up to 60fps. It uses AHD signals that allow customers to use existing coaxial cable infrastructure while providing an unparalleled image quality (up to 1640ft (500m) using RG59 cables). The VMAX AHD DVR offers free DDNS, Event Push notifications via mobile app, 1 Audio Input and Output, 4 Sensor Inputs and 1 Alarm Output, all controlled from the popular VMAX™ user interface. The VMAX AHD CORE™ is available in 4, 8 and 16 channel configurations, is available with up to 6 Terabytes of internal storage and is backed by DW
®
?۪s unbeatable 5 year limited warranty.
Additional NVR features include:
Full HD (1080P) Output for Live & Playback Display
Pathfinder™ Auto Port Forwarding
Analog High Definition (AHD) Technology Transmitting HD 1080p video over existing coax installation
Unparalleled image quality up to 1640ft (500m) using RG59 cables
Monitor and record up to 4 HD 1080P cameras
Pivot Pro™ CMS
Mobile Application for iPhone, iPad, iPod, Android Smart Phones and Tablets
Event Push Notifications via Mobile Client
120fps at 720P, 60fps at 1080P for 4ch Model
240fps at 720P, 120fps at 1080P for 8ch Model
480fps at 720P, 240fps at 1080P for 16ch Model
Simultaneous HDMI and VGA Output.
1 Audio Input, 1 Audio Output
4 Sensor Input, 1 Sensor Output
Email Event Notifications with JPEG
Simple & Free DDNS Support
Easy Web-Based Client with Multi-User Access
Advanced H.264 Linux Embedded DVR
Simultaneous Live, Playback, Recording, Back-up, Network
DVR Calculation and Auto Recording Configuration
Help Menu on Major Function
Screen Saver to Protect Monitor Screen
Import/Export Configuration between Multiple DVRs
USB Mouse and GUI Control
Additional camera features include:
2.1MP Resolution
Analog High Definition (AHD) HD over Coax Technology
STAR-LIGHT™ Super Low Light Technology
Wide Dynamic Range (WDR) (High-End Models)
Varifocal and Fixed P-Iris Lens Configuration Options
CleanView™ Hydrophobic Dome Coating Repels Water, Dust and Grease (Outdoor Models)
Smart IR™ with Intelligent Camera Sync. 100~150ft Range
Smart DNR™ 3D Digital Noise Reduction
Highlight Masking Exposure (HME)
True Day/Night Mechanical IR Cut Filter
Auto Sensing 24VAC/12VDC with Line Lock (High-End Models)
RS485 Built-in
Alarm Output/ UTP Built-in
Programmable Privacy Zones
Auto Gain Control (AGC)
Back Light Compensation (BLC)
Auto White Balance (AWB)
Junction Box Built-in
IP68 Certified (Water Resistant) (SnapIt Models)
ABOUT DIGITAL WATCHDOG
DW
®
(DW
®
) empowers our customers as the industry-leading single source of value-driven complete solutions for all video surveillance applications (analog / hybrid / IP enterprise), focusing on ease of use and ROI. DW
®
products offer technologically-advanced features including Star-Light™ super low light technology, WDR, Smart DNR™ and Smart IR™. Complete IP megapixel surveillance solutions include MEGApix® cameras and edge recording systems, Blackjack™ NVRs and DW Spectrum™ IPVMS for server, mobile and on-camera control. Complete analog surveillance solutions include STAR-LIGHT AHD™ 1080p and STAR-LIGHT MPA™ 1.3MP 960H cameras, VMAX™ DVRs and mobile management applications.
For Images or More Information:
Mark Espenschied
Director of Marketing
DW
®
marke@digital-watchdog.com
Toll Free: 866.446.3595 x283
www.digital-watchdog.com
Click here to download the full press release.
We'd Love to Hear from You
Please submit your information and a DW® representative will get in touch with you
  Call sales at (866) 446-3595