DW® Expands the VMAX960H CORE™ Analog Recording Line (January 2015)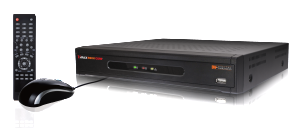 January 8, 2015???
DW®
, the industry leader in digital recorders, surveillance cameras and related management software, announces the release of our new VMAX960H CORE™ 8 Channel analog recorder, expanding our new VMAX960H CORE line of recording solutions. The VMAX960H CORE is an advanced H.264 embedded digital video recorder that records real-time at 960H Resolution. This DVR offers the unparalleled image quality of the VMAX960H at an affordable cost for small and mid-size applications. The VMAX960H CORE is the latest addition to our line of high quality, high resolution, 960H analog recorders that revolutionize the way users think about analog recorders.
As technology advances, security systems require solutions where details are more visible, analytical playback offers more features than play and pause and DVRs offer additional layers of data security and backup. Cost effective projects may still choose analog solutions over IP for the immediate cost savings of maintaining an existing analog infrastructure. That is why DW
®
found it paramount to launch the highest quality digital video recorder family available in the market.
960H resolution offers 960 Horizontal Pixel lines in each line of resolution. The 960H resolution is 34% better than D1 resolution. Combined with DW
®
960H and Star-Light MPA™ Camera Series, the VMAX960H CORE provides a high resolution surveillance system using existing infrastructure and technology.
In addition to the superb resolution, the VMAX960H CORE offers strong playback and video management features that elevate this recorder compared to competing products. The DVR includes features such as quick setup and help menu for the best user experience on the market, FREE and simple DDNS, true DVR health monitoring with instant e-mail notifications on video loss and much more, all available in a simplified hardware powered by the popular DW VMAX GUI for an ultimate user experience.
VMAX960H CORE features include:
34% MORE Resolution with True 960??480 Display Recording
Pivot™ Central Management Software, Up to 128CH
Mobile Application for iPhone, iPad, iPod, Android Smart Phones and Tablets, and Kindle Fire
MAC Compatible Remote ACS Software
Intuitive Graphical User Interface (GUI)
HDD Calculation and Auto Recording Configuration
Event Notifications via Email, Text and Pivot™ CMS
Advanced H.264 Embedded DVR
Multiplex ??? Live, Playback, Recording, Backup, Network, Configuration
Record 30 Frames per Second on Every Channel
1 Audio Input, 1 Audio Output
4 Sensor Input, 1 Relay Output
Simple & Free DDNS Service
Easy Web-Based Client with Multi-User Access
Watermark Verification (Digital Signature Verification)
Help Menu on Major Functions
Auto & Manual Firmware Upgrade Available
Import/Export Configuration Between Multiple DVRs
USB Mouse, IR Remote Control, GUI
The VMAX960H CORE offers a complete suite of remote client management software to tailor the DVR to each individual project. The VMAX960H CORE comes with the popular Pivot™ and ACS™ software, as well as the new DW Spectrum™ Synergy Surveillance Software for IP and Analog hybrid installations. In addition, the VMAX960H CORE can be accessed using DW
®
mobile application for iOS devices, Android smartphones and tablets and the Kindle Fire tablet series.
The VMAX960H CORE comes in 4 and 8 Channels configurations, with the option for up to 6TB internal storage.
Click here to download the Press Release
We'd Love to Hear from You
Please submit your information and a DW® representative will get in touch with you
  Call sales at (866) 446-3595