DW® Presents Technology Demonstrations of New Three-Sensor Panoramic Cameras at ASIS 2014
DW® Presents Technology Demonstrations of New Three-Sensor Panoramic Cameras at ASIS 2014: Multi-Sensor Design Delivers a Unified Image and Ability to Zoom In for Details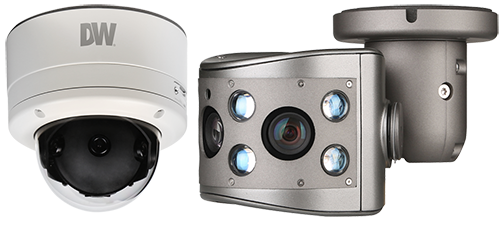 Three-Sensor Panoramic Cameras ASIS 2014, Atlanta, GA.
???
September 29, 2014
???
DW®
, the industry leader in digital recorders, surveillance cameras and related management software, will be demonstrating two new multi-sensor 180-degree panoramic cameras at the ASIS International Seminars and Exhibits September 29 ??? October 2, 2014, Booth 3145. The new cameras provide versatile solutions for multi-megapixel general surveillance with enough resolution to zoom in to reveal details in the image. ASIS attendees will be able to view live images from these cameras.
???We are excited to offer these unique cameras that truly round out the MEGApix product line, said HK Lee, CEO of DW
®
. ???A surveillance system with multi-sensor panoramic cameras for wide area surveillance plus single sensor high resolution cameras for choke points makes it easier for security operators to identify and track suspicious activity.
The new panoramic cameras cover 180-degree views with three 1080p sensors seen as a single IP address on the network and requiring only one recording license in a VMS. The three streams are married and delivered to the VMS as a single 1080p image at 30fps, allowing the user to zoom in to take advantage of the additional native resolution when viewing live video.
The vandal dome panoramic model is an installer?۪s best friend. The tilt of the three sensors can be easily adjusted without removing the dome. The bullet style panoramic camera includes IR illuminators.
???With the addition of these panoramic cameras to our MEGApix camera family, DW
®
now delivers the best of all worlds for the integrator and end user, said Wade Thomas, President of DW
®
. ???We provide the market with complete IP video surveillance solutions with cameras, software and NVRs that lead the industry.
DW
®
Three-Sensor panoramic cameras will begin shipping during Q4 2014.
ABOUT DIGITAL WATCHDOG

DW
®
empowers our customers as the industry-leading single source of value-driven complete solutions for all video surveillance applications (analog / hybrid / IP enterprise), focusing on ease of use and ROI. DW
®
products offer technologically-advanced features including Star-Light™ super low light technology, Omni-Plus™ autofocus systems, WDR, Smart DNR™ and Smart IR™. Complete IP megapixel surveillance solutions include MEGApix® cameras and edge recording systems, Blackjack™ NVRs and DW Spectrum™ IPVMS for server, mobile and on-camera control. Complete analog surveillance solutions include Star-Light MPA™ 1.3MP 960H cameras, VMAX™ DVRs and mobile management applications.
XXX
For Images or More Information:

Mark Espenschied
Director of Marketing
DW
®
marke@digital-watchdog.com
Toll Free: 866.446.3595 x283
www.digital-watchdog.com
Download the press release.
We'd Love to Hear from You
Please submit your information and a DW® representative will get in touch with you
  Call sales at (866) 446-3595