New MEGApix® — Varifocal Convenience and P-Iris Image Quality for Any Application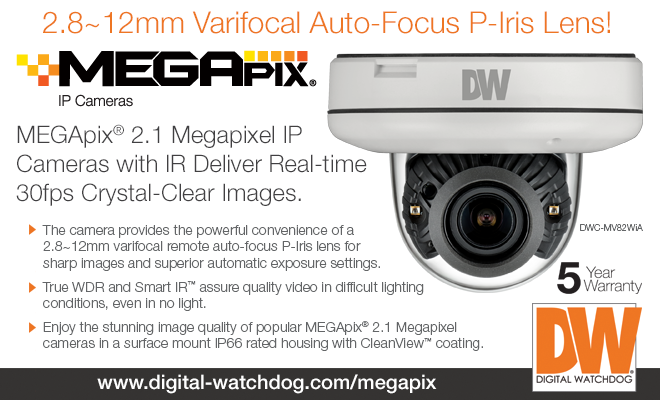 VARIFOCAL CONVENIENCE AND P-IRIS
IMAGE QUALITY FOR ANY APPLICATION
The new MEGApix® 2.1 Megapixel 2.8~12mm Varifocal Auto-Focus Indoor/Outdoor Dome IP Camera provides the powerful convenience of a remote auto-focus P-Iris lens for sharp images and superior automatic exposure settings with real-time 2.1 megapixel resolution.

True WDR and Smart IR™ assure quality video in difficult lighting conditions, even in no light.

The MV82WiA comes in a unique surface mount IP66-rated Dome Enclosure with CleanView™Self Cleaning Technology, reducing installation time and simplifying the configuration process.

Add this versatile camera to your system today.


DW® | 16220 Bloomfield Avenue, Cerritos CA 90703 | 5436 West Crenshaw Street, Tampa FL 33634 | United States
We'd Love to Hear from You
Please submit your information and a DW® representative will get in touch with you
  Call sales at (866) 446-3595