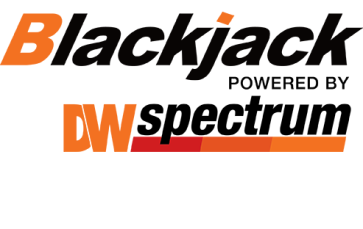 Tampa, FL October 15, 2013
– DW
®
is excited to announce the release of our new addition to the Blackjack Network Video Recorder series- the high quality, high performance E-Rack line, now available for order and customization. The Blackjack NVR powered by DW Spectrum is a powerful and user-friendly video management solution, highly optimized to provide unlimited scalability, unmatched bandwidth savings and simplified system setup and management. The architecture is cross-platform supporting both Windows and Linux. The new E-Rack PC based servers will offer the same quality and high performance introduced by DW
®
in the Blackjack Blade and Blackjack Cube, for high-end and large scale enterprise installations. The Blackjack E-is a Windows 7 based NVR powered by Intel® I7 3rd Generation multi- core processor and is available in 5 hardware options, ranging from 2U to 4U cases with customizable storage options from 4TB up to 144TB. The E-Rack offers assurance features such as Data Redundancy RAID 5*, Redundant Power Supply*, Hot- Swappable HDD Bays, OS installed in a separate SSD for faster boot up, dual Gigabit Network and memory configuration support, all fully customizable by the customer. All Blackjack E-Rack models come equipped and pre-installed with DW
®
's popular DW Spectrum IPVMS and 4 digital recording licenses. The Blackjack powered by DW Spectrum includes the following features:
Data Redundancy with RAID-5.*
Redundant Power Supply. *
Hot-Swappable HDD bay ( Recording Data)
Intel® I7 (Gen 3rd) CPU
Dual Stream Recording
Instant Motion-Based Smart Search
Fully Customizable Layouts
Easy Drag-n-Drop Camera Management and Recording
Region of Interest with Forensic Spyglass Camera Display
E-Mapping
Video Color Adjustment
Advanced Graphical System Health Monitoring
Local Client Display
True Automatic Device Discovery and Display
ONVIF Conformant
Advanced Events & Actions Rules
Email Notifications with Event Playback Link
Server Auto Login
* Not supported in DW-BJE2U Models Use the Reference Table below for a complete review of all available storage and hardware options.
| | | |
| --- | --- | --- |
| Internal Storage | Number of Bays | Part Number |
| 4 ~ 32 TB | 8 | DW-BJE2U |
| 16 ~ 48 TB | 12 | DW-BJER2U |
| 52 ~ 64 TB | 16 | DW-BJER3U |
| 68 ~ 96 TB | 24 | DW-BJER4U |
| 100 ~ 144 TB | 36 | DW-BJER4U |
Wade Thomas
President DW
®
, Inc. Toll Free: 866.446.3595 www.Digital-Watchdog.com