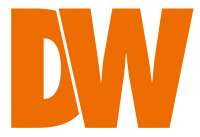 DW®'s Height Strip IP Camera is Ideal for Commercial and Public Buildings
The camera captures wide-angle, eye-level images of potential suspects entering or leaving a facility and provides an easy height reference.

DWC-MHS5W37T and DWC-M(P)HS5W37T DW® MEGApix® IP Camera.
Cerritos, CA (September 26, 2023)
–
Digital Watchdog® (DW)
, the industry leader in digital recorders, surveillance cameras, system peripherals and related management software, announces the addition of a 5MP MEGApix height strip IP camera with intelligent video analytics. The camera is a cost-effective and reliable solution for loss prevention, product shrink reduction, inventory control and crime deterrence.
"Many retail establishments, commercial and public buildings employ a heigh reference strip at exit doors to facilitate the identification of potential suspects when captured from a security camera facing the door," said Mark Espenschied, Director of Marketing, DW. "The MEGApix height strip camera adds the critical advantage of clear views of the person's face, in addition to providing the height reference for other cameras."
This NDAA-compliant MEGApix height strip IP camera accurately identifies and captures eye-level real-time 30fps 5MP images. Use the camera's intelligent video analytics engine to detect and classify people in real-time. With a 3.7mm wide-angle lens, Star-Light Plus™ color in near-total darkness technology and wide dynamic range, the camera delivers high-definition images in any lighting condition. The height strip IP camera is cost-effective for inventory product shrink control, loss prevention and crime deterrence. All MEGApix cameras are ONVIF conformant, assuring their successful integration with any open platform solution on the market.
Product features:
5MP 1/2.8" image sensor at real-time 30fps
Star-Light Plus™ color in near-total darkness technology
Intelligent Video Analytics (IVA model: DWC-MHS5W37T)
Extended Intelligent Video Analytics (IVA+ model: DWC-MPHS5W37T)
Seamless integration and control of IVA rules with DW Spectrum IPVMS
Reduce false alarms
Increase your recording storage with logic rules and smart recording
Capture high-quality eye-level images of people entering and leaving a facility
3.7mm fixed lens height strip camera
True Wide Dynamic Range (WDR)
Triple codecs (H.265, H.264, MJPEG) with simultaneous streaming
Smart DNR™ 3D digital noise reduction
True day/night with mechanical IR cut filter
Programmable privacy zones
Motion detection
Micro SD/SDHC/SDXC class 10 card slot (card not included)
Web server built-in
PoE Class 2 and DC12V
NDAA compliant
5 year warranty
To learn more about the MEGApix height strip camera,
click here.
To learn more about DW's industry-leading video surveillance products, visit
www.digital-watchdog.com.
ABOUT DIGITAL WATCHDOG
Founded in 1987, DW® is a leading manufacturer of NDAA/TAA-compliant complete surveillance solutions, offering stunning image quality, advanced hardware capabilities, superior video management, reliable customer support and the lowest total cost of deployment for IP megapixel, Universal HD over Coax® megapixel and legacy analog applications. DW's catalog includes an NDAA-compliant elevated skin temperature system, illuminators and motion detectors. With offices in Cerritos, California and Tampa, Florida, and manufacturing facilities in Seoul, Korea, DW is committed to delivering powerful security solutions to its customers worldwide.
For More Information:
Mark Espenschied
Director of Marketing
DW® Complete Surveillance Solutions
Toll-Free: 866.446.3595 x283