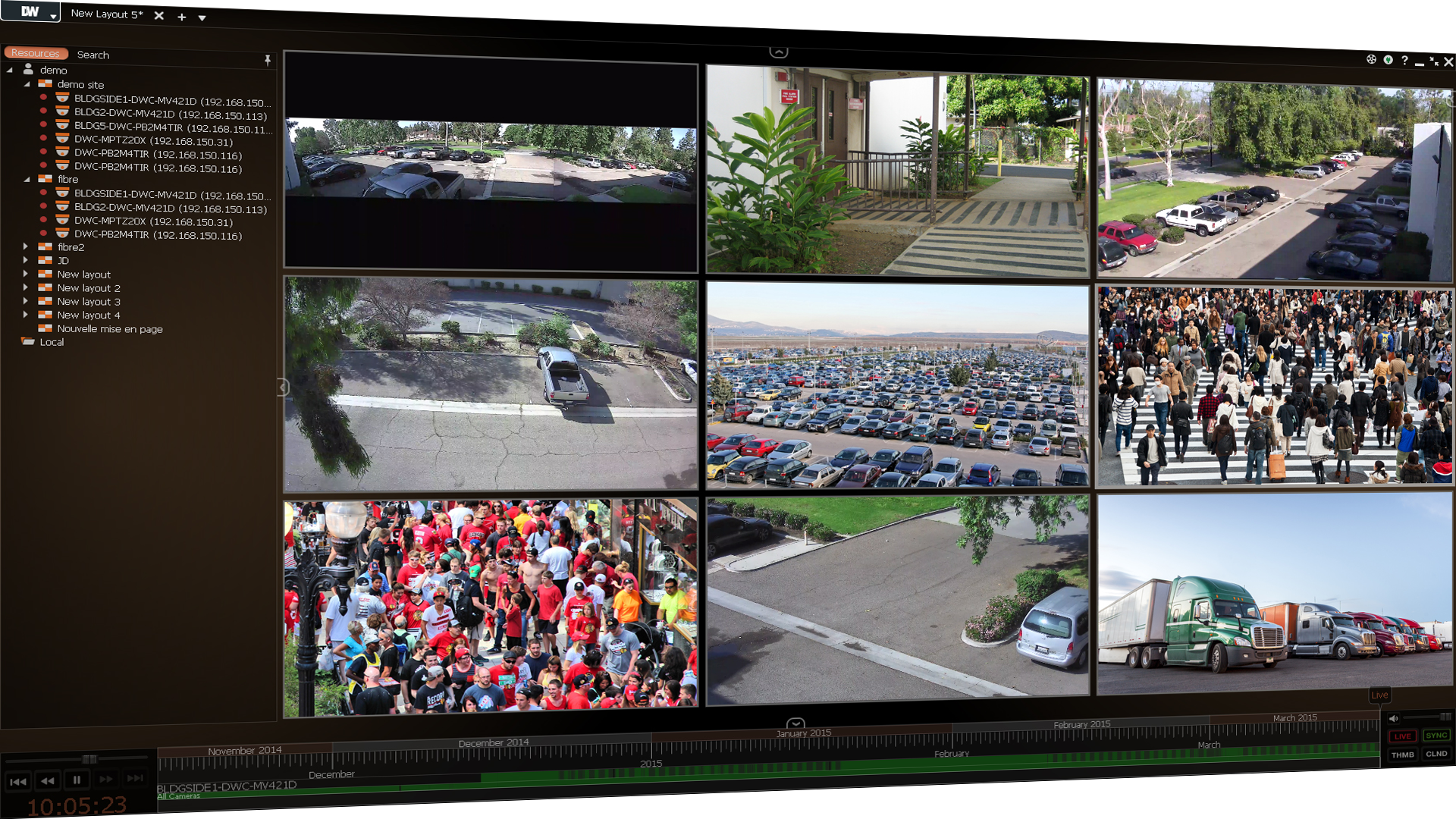 DW Spectrum IPVMS
Cerritos, CA (December 2, 2015) – DW® (DW®), the industry leader in digital recorders, surveillance cameras and related management software, announces the integration of the company's powerful DW Spectrum IPVMS with RBH Access Integra32™ Security Management Software. The recent integration provides users a single platform to manage both system seamlessly. Dynamic response to security events is made possible by allowing the operator to link video with the events in real-time, directly through the Integra32 Software. In addition, the operator can easily verify that those entering are authorized and using their assigned credential. Events from 3rd party systems such as compatible alarm panels can also be reviewed using video streams.
"DW Spectrum's open platform has accelerated the development of our technology partner program," said Patrick Kelly, Director of IP Video Solutions – North America, DW®. "The addition of RBH Access and their highly innovative, feature-rich Integra32 opens a world of possibilities to DW® customers."
Brad Sampson, National Sales Director of RBH USA, stated, "We're excited to welcome DW® to RBH's family of integration partners. DW®'s DW Spectrum IPVMS is an industry leading product that extends our customer's ability to provide cost effective, cutting-edge solutions to a variety of applications."
ABOUT DW®
DW®® (DW®) empowers our customers as the industry-leading single source of value-driven complete solutions for all video surveillance applications (analog / hybrid / IP enterprise), focusing on ease of use and ROI. DW® products offer technologically-advanced features including Star-Light™ super low light technology, WDR, Smart DNR™ and Smart IR™. Complete IP megapixel surveillance solutions include single- and multi-sensor MEGApix® cameras and edge recording systems, Blackjack™ NVRs and DW Spectrum™ IPVMS for server, mobile and on-camera control. Complete analog surveillance solutions include single- and multi-sensor STAR-LIGHT AHD™ 1080p and STAR-LIGHT MPA™ 1.3MP 960H cameras, VMAX™ all-in-one multi-platform DVRs and mobile management applications.
ABOUT RBH ACCESS
RBH Access Technologies, headquartered in Brampton, Ontario, develops, manufactures, and supports small business to enterprise Access Control solutions that can be specifically tailored to a customer's needs. Utilizing the latest in Microsoft platform technology, RBH delivers responsive and reliable software on the desktop, server and over the web. Robust controllers work in the harshest of environments and in a variety of applications all over the globe. Employing open interface protocols allows for a great selection of available identification devices from proximity, to fingerprint and iris, as well as a myriad of other technologies available on the market today.
XXX
For Images or More Information:
Mark Espenschied
Director of Marketing
DW®
marke@digital-watchdog.com
Toll Free: 866.446.3595 x283