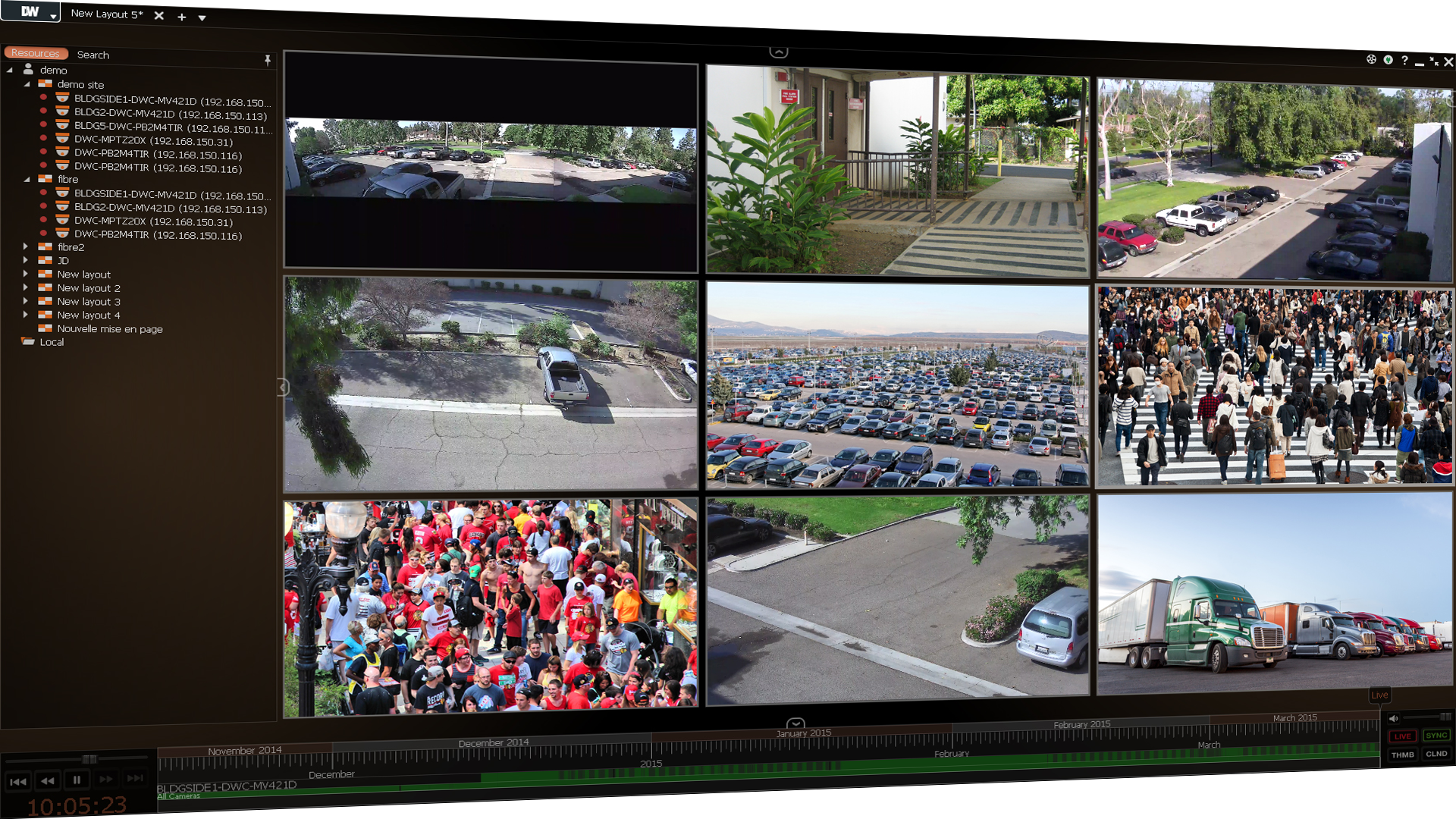 DW Spectrum™ IPVMS v2.4 Screenshot
Cerritos, CA (November 3, 2015) –
DW® (DW®)
, the industry leader in digital recorders, surveillance cameras and related management software, announces the release of the latest update for the DW Spectrum™ IPVMS Software. The new v2.4 software improves the program's data security with failover priority, makes integration with existing applications easier using a generic event API and re-introduces an improved web client.
DW Spectrum IPVMS is an elegantly easy cutting-edge approach to HD surveillance, addressing the primary obstacles and limitations of managing enterprise-level HD video while offering the lowest total cost of deployment and ownership of any solution on the market. The software offers advanced search features to find the exact time you need in an instant. The software is cross-platform, and combined with quick installation and instant network mapping and discovery, you can start viewing your entire security system in minutes. DW Spectrum™ is a perfect solution for any application that requires ease, speed, efficiency, and unprecedented image quality.
"We think that DW Spectrum should be the management software of choice for all IP video surveillance systems serving all vertical markets," said Mark Espenschied, Director of Marketing, DW
®
. "As new features are added, its inherent ease of use, unprecedented bandwidth management and one-time lifetime recording license make our IPVMS the affordable alternative to any competing software."
NEW FEATURES
Web Client RETURNS
Audit Trail
LDAP Integration
Failover Priority
I/O Module Support
New User Management Dialog
Storage SDK
Storage Analytics
Generic Event API
NEW DEVICES SUPPORTED
Axis P8221 I/O Module
ACTi V32 16 channel IP encoder
DW® DWC-BVI2IR
Latest standard Arecont and Axis cameras are supported
Bosch X1600 8 channel encoder
ACTi i96 camera
IMPROVEMENTS
Decrease CPU usage on camera-based Edge Server (MEGApix® CaaS™).
Improved usage statistics and crash reports.
New warning when more than one server is recording to the same storage.
When multiple servers are recording to a shared storage location (e.g. NAS) usage is shared more effectively.
Mobile app performance improved when pulling video from Edge Server (ARM) devices.
Adding NAS devices on Linux simplified to match Windows method.
Check for updates automatically enabled by default.
Video viewing synchronization in multi-server systems improved.
Ability to disable user. Instead of deleting user it is recommended to disable it because in this case all user actions history (audit trail) will be kept.
"Server started after crash" notification rename to "server restarted unexpectedly".
Improved accuracy of Storage Analytics feature.
Added PTZ presets support on Axis M7016 Encoder
Improved ONVIF PTZ support for Redvision dome camera RVX-IP30-IRWL-W
Improved ONVIF PTZ support of Eneo cameras
Added autofocus support for Vista VK2-3MPBIR28V12re and VK2-3MPVRDIR28V12re cameras
Added Server Hardware ID (HWID) logging
Added "duration" to HTTP Streaming API
"Info" icon status improvements - saved for layouts, shows camera name only when not active
Improved Server Settings dialog.
Visit our website for the full release notes, to download the latest DW Spectrum™ software and learn more about our software, servers and cameras:
https://digital-watchdog.com/productdetail/DW-Spectrum-IPVMS/
.
If you are already running a DW Spectrum version 2.3, please use the auto update feature in the software itself. For auto updates, enter version 10278in the remote update page and use the following password: tt32pq.
ABOUT DW®
DW
®
® (DW
®
) empowers our customers as the industry-leading single source of value-driven complete solutions for all video surveillance applications (analog / hybrid / IP enterprise), focusing on ease of use and ROI. DW
®
products offer technologically-advanced features including Star-Light™ super low light technology, WDR, Smart DNR™ and Smart IR™. Complete IP megapixel surveillance solutions include single- and multi-sensor MEGApix® cameras and edge recording systems, VMAX IP™ NVRs for SMB, Blackjack™ Enterprise NVRs and DW Spectrum™ IPVMS for server, mobile and on-camera control. Complete analog surveillance solutions include single- and multi-sensor STAR-LIGHT AHD™ 1080p and STAR-LIGHT MPA™ 1.3MP 960H cameras, VMAX™ DVRs and mobile management applications.
XXX
For Images or More Information:
Mark Espenschied
Director of Marketing
DW
®
marke@digital-watchdog.com
Toll Free: 866.446.3595 x283
www.digital-watchdog.com