To: DW® Customers
Date: January 20, 2016
Re: New Camera OSD Virtual Controller Feature
DW® announces the release of a new firmware version 7.2.1.1.89 for the VMAX A1™ DVRs. The firmware includes a new intuitive OSD control menu for AHD cameras. The new OSD control menu is available in PTZ control mode for AHD cameras connected to the DVR via UTC. The new function allows you to show or hide the controller, move the camera digitally, digitally zoom in our out and access the cameras OSD menu.
To access the camera's OSD menu:
Make sure you are connecting an AHD camera to the DVR that supports UTC protocol.

Right-click anywhere on the screen and select MENU.

Go to the Device sub-menu and select the UTC/PTZ tab.

In the UTC/PTZ setup menu, make sure the camera is enabled for PTZ control via UTC by setting up the following options:


Select the channel number from the drop-down at the top left pf the window.
Select PELCO-C AHD as the protocol.
Set the Baudrate to 9600 BPS.
Press the 'Copy Setting' button to apply these settings to other cameras.
Press 'Save' to save all changes and settings.

Go to the camera's live view and click on it to make sure you are in single channel mode.

Right-click on the screen and select PTZ Control.

Once in PTZ Control, right-click on the screen again and select 'Show Controller'. The small OSD controller will appear on the screen.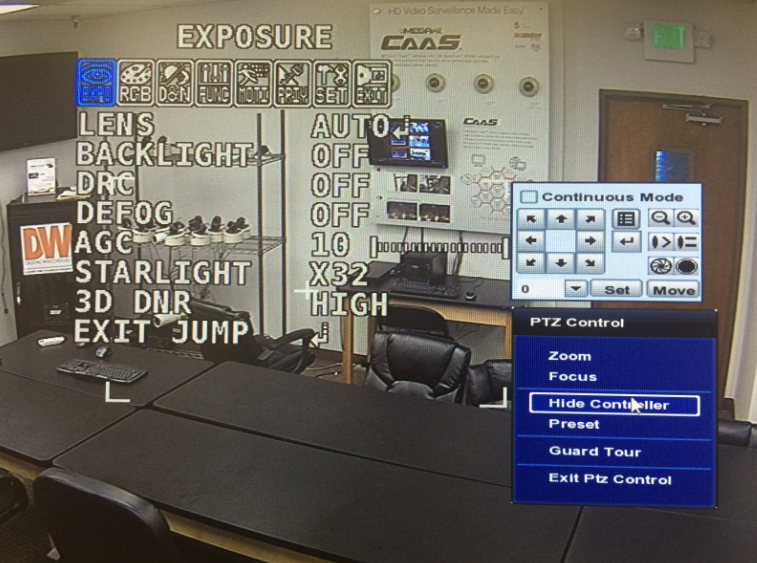 To upgrade your recorder:
Go to www.digital-watchdog.com and go to the DVR's product page.

Under Downloads, download the latest firmware. Once the file is downloaded, unzip it, and copy it to a USB.

Plug the USB with the new firmware into your DVR.

Right-click anywhere on the screen and select MENU à SYSTEM MENU and click UPGRADE next to the version number.

Select 'USB' from the Method drop down options and press the 'Scan' button.

Once the system detects the USB drive, it will display the firmware file under 'Upgrade File Name' and the 'New Ver'.

Click START to begin the upgrade.

You may also use the FTP upgrade option in your recorder. Refer to your recorder's full manual for more information.
For More Information:
DW® Customer Service
Toll Free: 866.446.3595
customerservice@dwcc.tv
XXX