Plug and Play HD IP Video Solutions:
VMAX IP Plus™ NVRs

The VMAX IP PLUS™ is an easy to use PoE NVR that allows you to go from power up to monitoring in less than three minutes! The VMAX IP PLUS™ is available in 4-*, 8-* and 16-channel models with bonus management for up to *five additional channels. They support camera resolutions up to 5 Megapixels at 30fps. Enjoy the convenience of graphical system/network monitoring and health check email notifications.
The VMAX IP Plus™ PathFinder™ app for iOS® and Android® lets you securely view your system on your smartphone by simply scanning a QR code in the settings menu.
The DW Witness™ app for iOS® and Android® KitKat instantly turns your smartphone or tablet into a video surveillance camera. Press the button on the app and start transmitting live video to your VMAX IP Plus™. It's a "black box" for personnel on patrol. (REQUIRES CURRENT VMAX IP PLUS™ FIRMWARE.)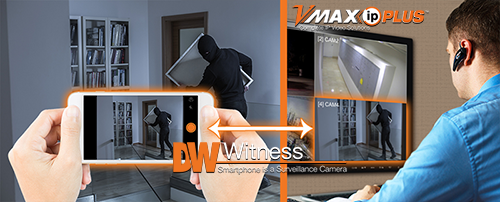 Camera streams are protected when a user ID and password are used with an NVR. The additional
CCIP™
(Closed Circuit IP) encryption is activated when the VMAX IP Plus™ system sends a request for an encrypted stream from the camera. The camera then encrypts its RTSP stream a second time, using the encryption's user ID and password. The result is a secured and encrypted RTSP stream that can be read only by the requesting VMAX IP Plus™ NVR.
The CCIP™ feature is available in the following
MEGApix®
cameras:
DWC-MF10M28T
DWC-MF10M36TIR
DWC-MF10M8TIR
DWC-MB72i4V
DWC-MB82i4V
DWC-MD42V
DWC-MD42i4V
DWC-MV72i4V
DWC-MV72i28V
DWC-MB421TIR
DWC-MB421TIR650
DWC-MB721M4TIR
DWC-MB721M8TIR
DWC-MC421D
DWC-MD421D/DWC-MD421DB
DWC-MD421TIRB/DWC-MD421TIRB
DWC-MV421D/DWC-MV421DB
DWC-MV421TIR/DWC-MV421TIRB
DWC-MF21M28T
DWC-MF21M4TIR
DWC-MF21M8TIR
DWC-MPTZ5X/DWC-MPTZ5XFM
DWC-MPTZ20X/DWC-MPTZ20XFM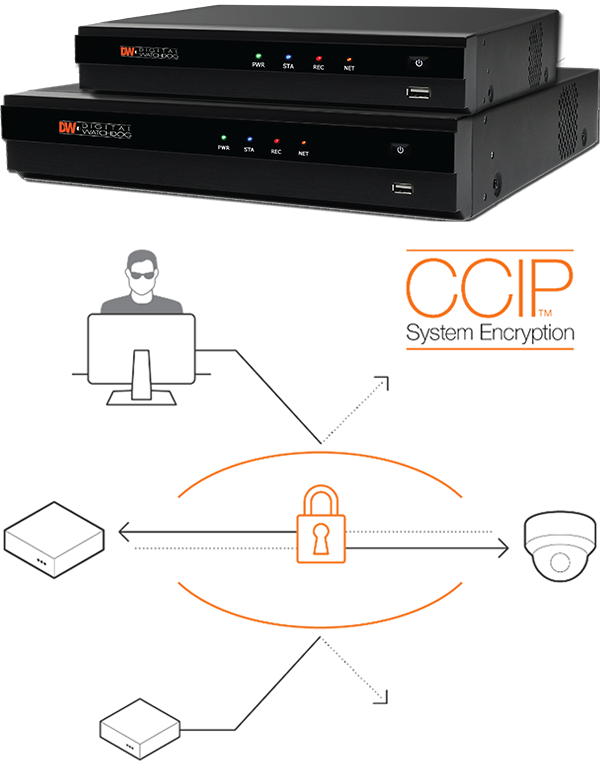 Features:
Simple and Easy to Navigate VMAX GUI for the most User-Friendly Solution on the Market
DW Witness™ App Makes Your Smartphone or Tablet a Surveillance Camera
Complete Installation, Setup and Camera Configuration in under Three Minutes!
Control any ONVIF Camera's Setup and Features Remotely
Pathfinder™ Auto Port Forwarding
Monitor and Record up to 16 Megapixel Cameras
Local Power for up to 16 IP Cameras via Resident PoE Switch
Central Management Software
Monitor and Record up to 9 5MP (2592x1920) Cameras (On Supported Models)
Mobile Application for iPhone, iPad, iPod, Android Smart Phones and Tablets
Automatic Device Discovery
Dual Stream Recording
Easy Drag and Drop Camera Management
Instant Backup During Playback
Full HD (1080p) Output for Local Live & Playback Display
4 Sensor Input, 1 Alarm Relay Output
Complete System Analysis with Real-Time System, Network and PoE Status Monitoring
Email Event Notifications with Video Clip
Simple & Free DDNS Support for Remote Management
Easy Web-Based Client with Multi-User Access
NVR Calculation and Auto Recording Configuration
Auto or Manual Firmware Upgrade Available
Screen Saver to Protect Monitor Screen
Import/Export Configuration between Multiple NVRs
5 Year Limited Warranty