Blackjack® servers powered by DW Spectrum® IPVMS
The DW Spectrum® IPVMS media server application is a lightweight, powerful media server responsible for discovering, connecting to, and managing DW Spectrum® IPVMS system devices and data. The application is pre-loaded on all Blackjack® servers.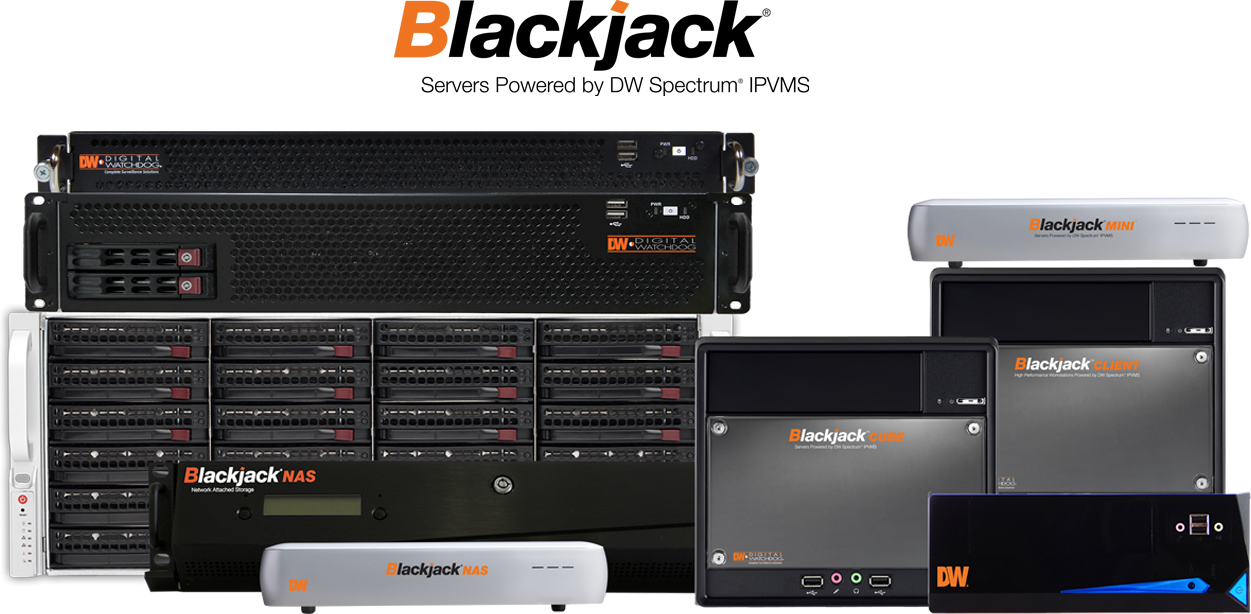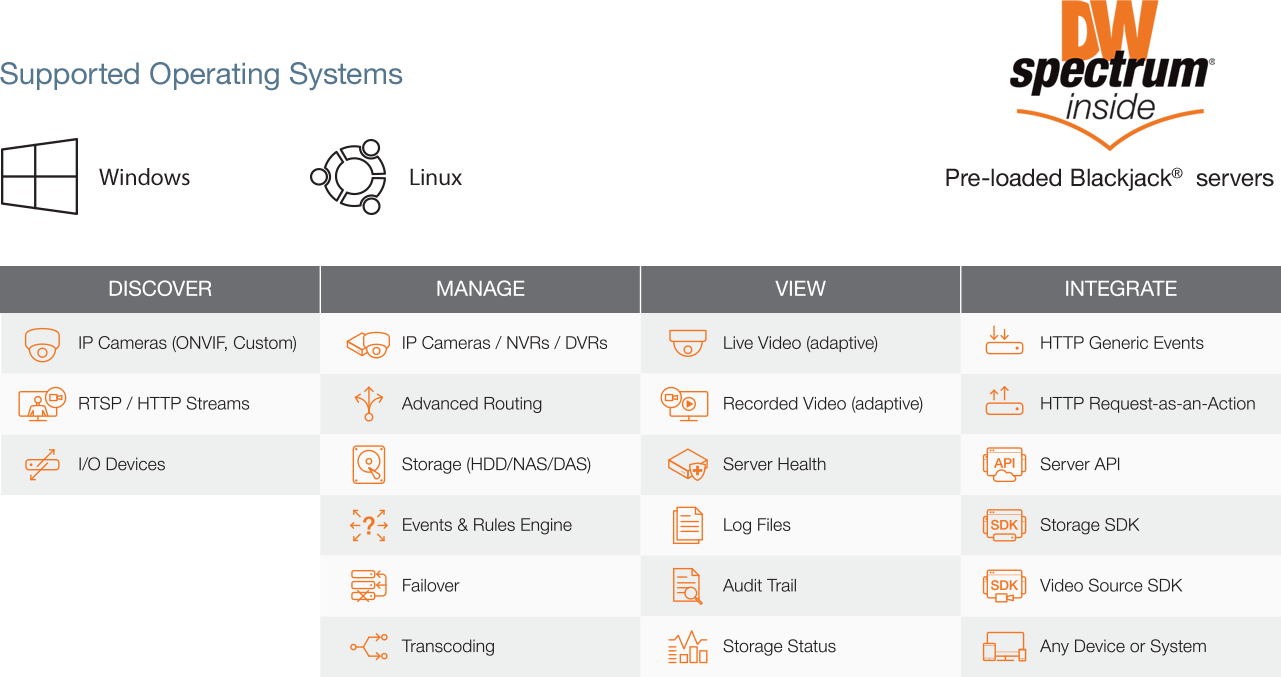 Scalability
Number of Clients per Server: Thousands
Number of Clients per System: Unlimited
Number of Streams per Server: 128
Number of Servers in a Server System: 50*

*50 is recommended maximum. Depends on server configuration and network environment. Contact support for more info.
Supported Operating Systems
| | |
| --- | --- |
| Windows | Linux |
| Windows 7 | Ubuntu Linux 14.04 LTS |
| Windows 8 | Ubuntu Linux 16.04 LTS |
| Windows 8.1 | |
| Windows 10 | |
| Windows Server 2008 | |
| Windows Server 2008 R2 | |
| Windows Server 2012 | |
| Windows Server 2012 R2 | |
| Windows 10 Enterprise | |
Hardware Requirements
Cloud Connect
Hard Drive: HDD
RAM: 2GB
CPU: Quad Core Intel 7 CPU or higher
Graphics: Intel HD Graphics 3000 w/ Open GL2.1 support
Networking: 1GB NIC
Performance Specs
Hard Drive: Performance SSD
RAM: 16 GB RAM
CPU: Intel Core i5
Graphics: NVIDIA GeForce GTX 1050
(Open GL2.1 support is required)
Networking: 1GB NIC
Supported Media Streaming
Live Streams - Viewed in DW Spectrum® Desktop
Video: H.265 H.264 MJPEG
Audio: AAC PCM (Mu-Law, A-law) g726 MP3

Live Streams - vailable to pull from DW Spectrum® IPVMS media server to 3rd party
Video: H.265 H.264 MJPEG WebM
Audio: AAC PCM (Mu-Law, A-law) g726 MP3
Protocols: RTSP MJPEG WebM HLS
Miscellaneous
Automatic Camera Failover: ~1 min. configurable
Transcoding: Supported (for web, client, mobile, API)
Database: SQLITE + proprietary archive index
Single Sign On: LDAP / active directory
Security: OPEN SSL, SALTED MD5 HASH, TLS/SSL, HTTPS
Dev Tools: Server API (HTTP), video source SDK, storage SDK
NAS: ISCSI